How can someone from Peloponnese like me – make the Trikala's plastos with relative success for the first time? Only if she has a link to someone who has an experiential relationship with the "pispilita", this delicious corn pie from Thessaly. 
My link is my friend, Irene Alexiou, a Trikala native, and of course the "primary source" of all information is her mom, Mrs. Constantina.
First of all the recipe for the plastos came together with an awesome corn flour from Trikala.
The proportions of the materials and instructions were discussed quite a bit. What greens do we put, if I have to put leeks and green onions and dried onions, little nettles of course, no limit in oil and water. I dared to raise my stature only to add mint to the plastos, something the locals never do. My plastos might be the only one that has mint in it but the result took away even the last doubts.
I have to admit that mint is perfect for any pie !
ΑAfter they were calculated and weighed everything, it was time for my acquaintance with the technique of plastos making! The process of throwing corn flour in the pie with hands slowly, loosely, is called "pispilisma" in the local dialect, and this why this pie is also known as pispilita !
This so simple, easy and impressively fast process was invented out of necessity. Old housewives returning from the farm and animal work, had to quickly provide a hearty and inexpensive meal for all the family, so there was no time for details. They took their flour, little water with oil and they made a dough for the pie without even fermenting it. 
They would spread flour in the pan where they'd bake the pie, sprinkle with oil and water, put greens and repeat the same procedure on the surface of the pie. The cornmeal absorbed the liquids and gave a dough that was heavy and cohesive, holding the herbs and cheese together.
INGREDIENTS for 25x25cm pan 
800 grams of cornmeal (divided into two parts, 500 and 300 grams),

500 grams of mixed vegetables (spinach, nettles, chard)
4-5 fresh onions
1 leek
1 onion
half bunch dill
half bunch mint
350 grams feta cheese
250 ml olive oil
Salt and pepper
80 grams of cow's butter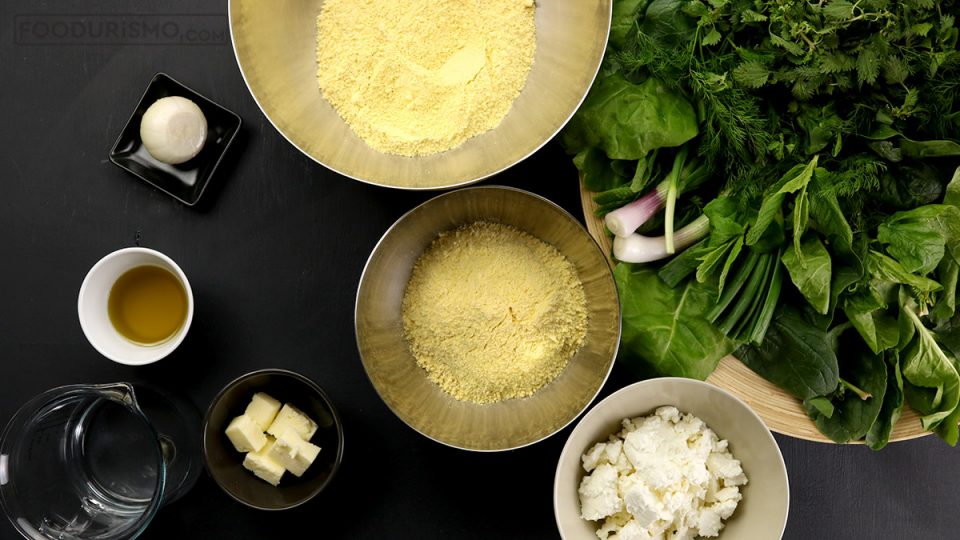 EXECUTION
Wash the greens well, let them drain from the water. Chop them in a large bowl.
We do the same with green onions, leeks, onions and herbs. 
Salt and squeeze the herbs with your hands, as if "massaging" them, we want to slightly dehydrate and "wither" and not have too much volume or too much fluid.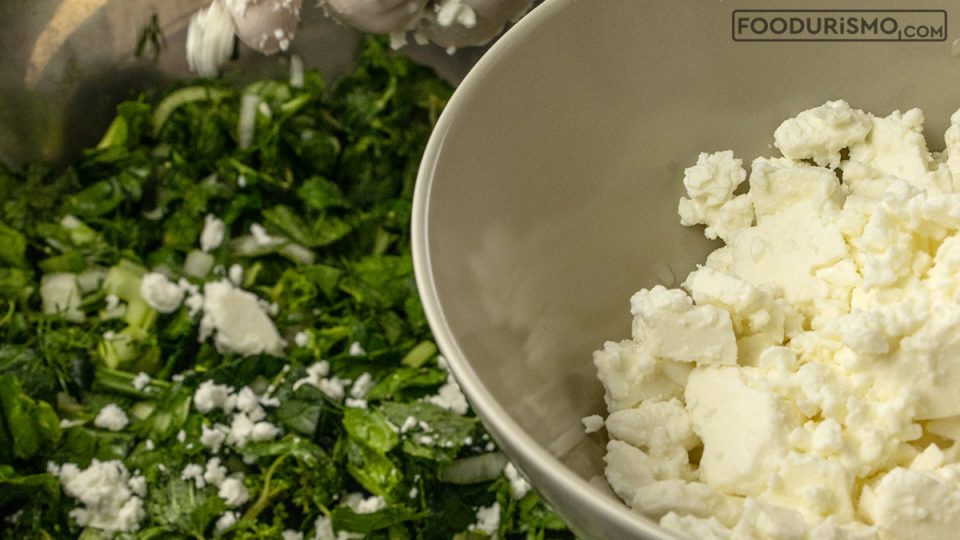 Slice the feta cheese and pour it into the bowl with the herbs, add a little olive oil (3-4 tablespoons) and add lots of pepper. Don't forget to pour a tablespoonful of cornmeal into the mixture, which will absorb unnecessary liquids while baking. Mix well.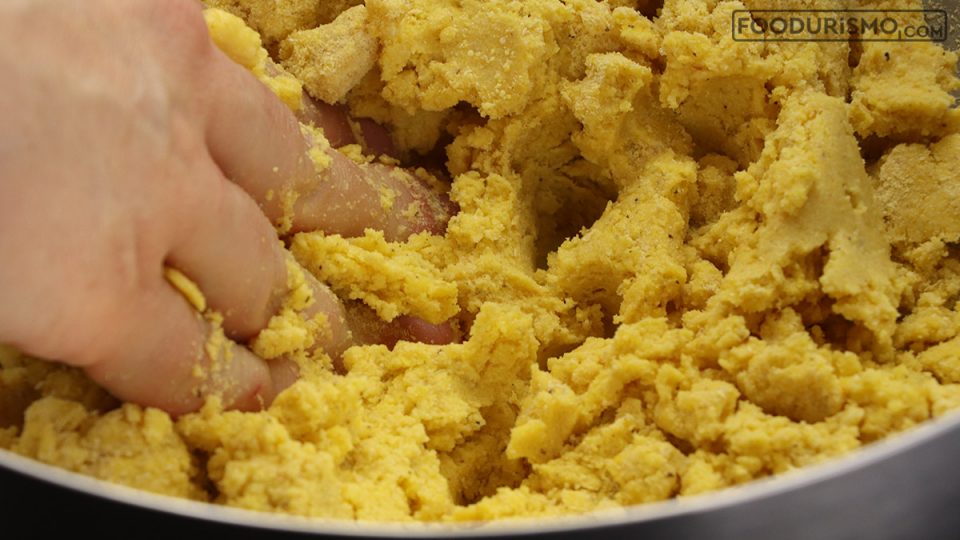 Put 500 grams of cornmeal in a bowl, make a small puddle in the middle and pour 200 ml of the olive oil that we have for the pie. Add a little salt, about half a teaspoon. We are slowly pouring water and knead gently. You will need as much water to have a dough that is soft, very pliable, it is good to be almost watery. 
Cornmeal is a flour that absorbs plenty of water giving a heavy dough, so it needs plenty of water and oil so that it becomes not too hard to bake but crisp.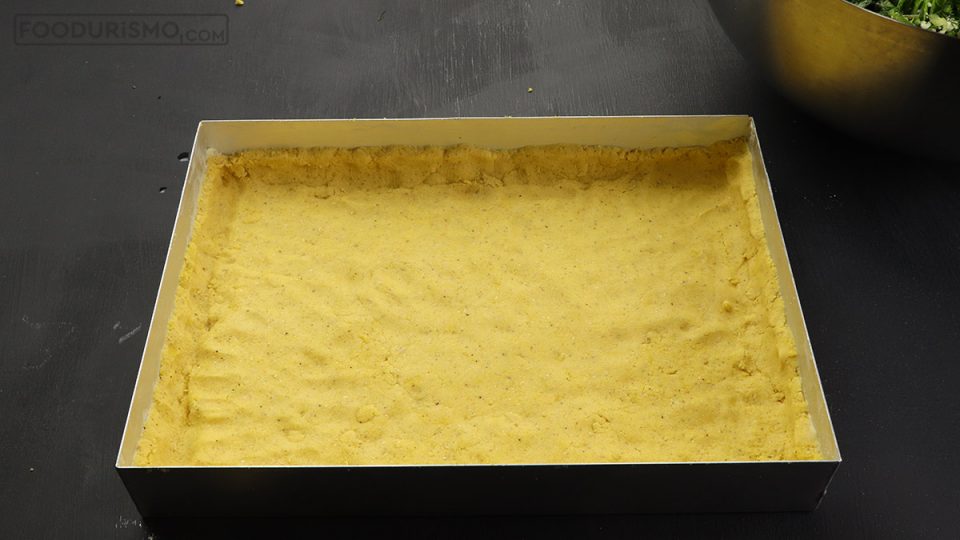 We use about half of the butter to cover the bottom of the pan. With our hands we take pieces of dough and spread it out to cover the bottom of the pan making it about half a centimeter thick.
Make a "wall" at the edges of the pan with the dough, about two fingers high, as we do on the tart.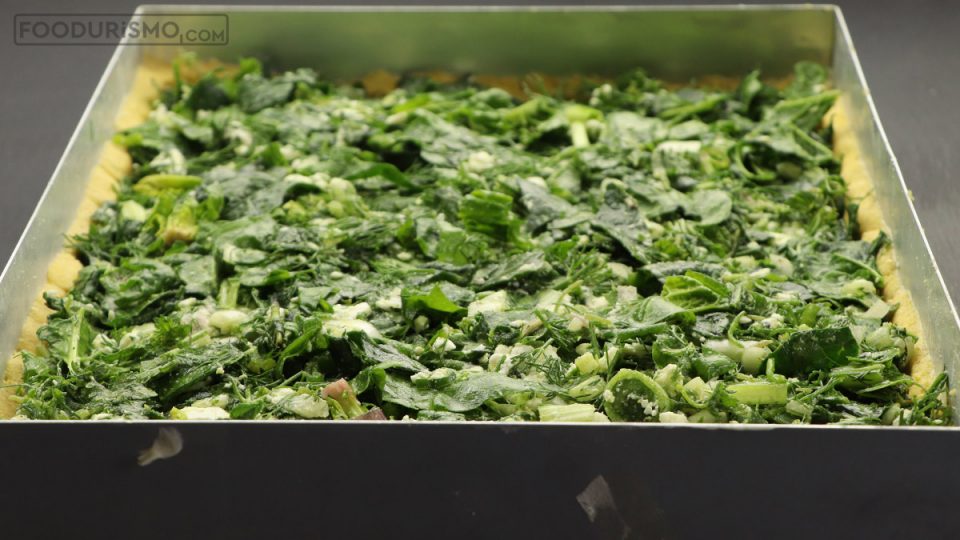 Pour the greens mixture over the dough, spread out to make it even.
Now take the remaining flour, 300 grams, and sprinkle corn flour all over the surface of the pie until it is completely covered, so that the greens are almost not visible.
Then fill in a jug of water, at least half a liter, and start again with your hands to sprinkle at the cornmeal. But when we say springle we mean very good spraying, almost … watering is what is needed.
As we said, in order not to get tough, the plastos wants plenty of water. It will probably take just over half a liter, perhaps 600 ml of water, until the cornmeal becomes like the wet sand, dark in color.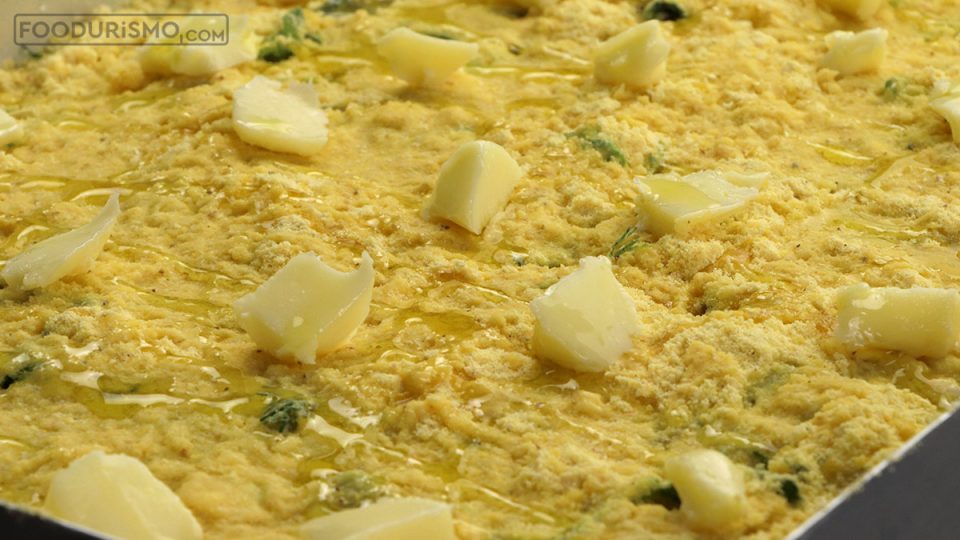 In the end, sprinkle with a little more olive oil and scatter chunks of the remaining butter.
Bake at 170 degrees Celcius in a preheated oven for about 40 minutes.
Allow the plastos to stand for a while and serve.