This little pie is, I think, a household favourite, after greens pie of course. Aside from being a true delight, it's a life saver at times of intense hunger, on days when I can't really cook and we have to grab some lunch for the office or school… And if you accompany it with a salad you love, it's a full, hearty meal.
It's relatively light, because of the kitchen, but there's a special taste to it due to the sweetness of red peppers and yellow cheese.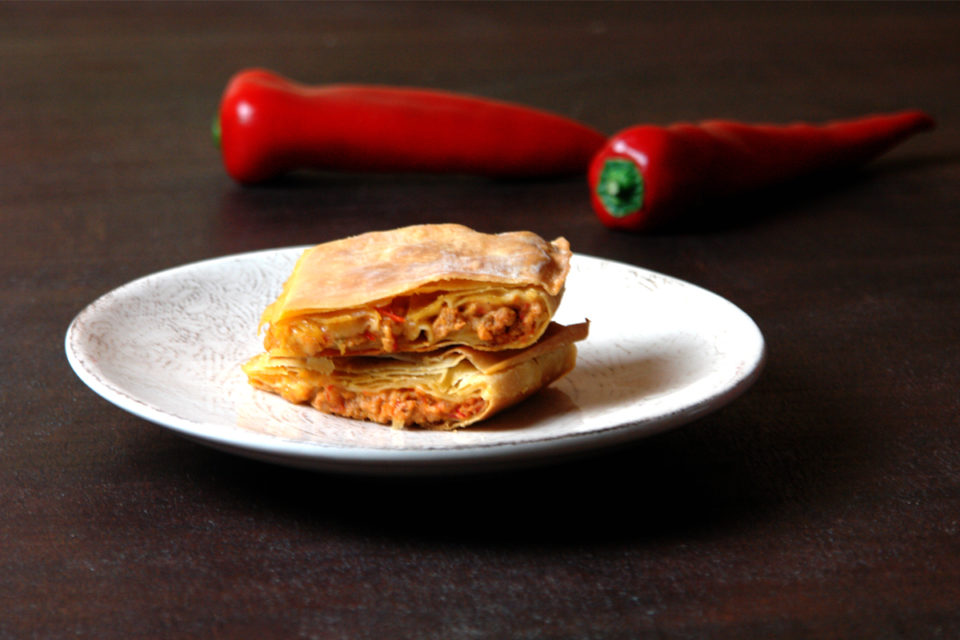 Here's the thing about Florina peppers: their taste is refined and sophisticated, with a unique but simultaneously mild character. No comparison then to the regular green peppers, which have a characteristic aroma and taste, intrinsically tied to many Greek dishes, that often "covers up" the tastes of all other ingredients in a recipe, essentially dwarfing them.
I frequently use store-bought "choriatiko fyllo" dough, from a small business in my neighbourhood. Alternatively, you may use fyllo "kourou", crust or the classic homemade variety, if you feel like making it yourself. I personally think that for this pie, "choriatiko fyllo" is best suited, both in thickness and taste; crusty fyllo is not enough to absorb the oil, while kourou and regular dough are too much… But it's all a matter of taste, so try it out and see what you like best.
INGREDIENTS
(FOR A 35X40 PAN OR PYREX BOWL)

750g of minced chicken, breast and leg

1 dry onion, plus 4-5 fresh onions (their white, tender green part)
3 Florina peppers, fresh in squares or from a jar.
1 large carrots, grated
1 large tomato in squares or half a can of small tomatoes
100ml of white wine
Salt and pepper
4 pieces of "choriatiko fyllo" (store-bought)
250g of grated cheese (graver, kasseri, ladotiri)
Olive oil to use on the pyrex bowl and the fyllo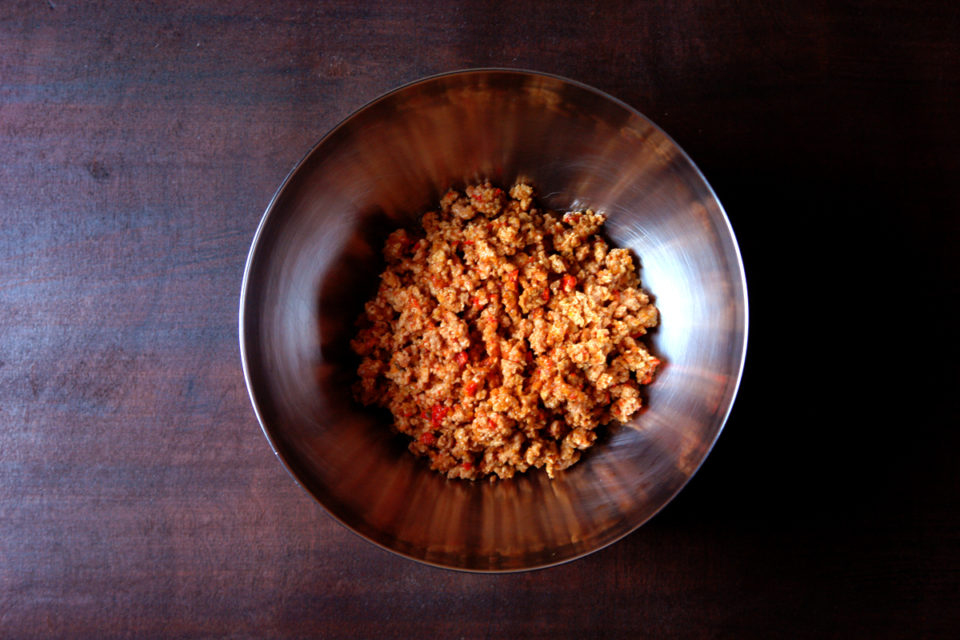 INSTRUCTIONS

We pulp the onions and sauté lightly with olive oil, adding the minced meat and mixing well until it's mashed, the same process we follow for the classic spaghetti and minced meat dish. We pour some wine and keep mixing, making sure the meat is properly sautéd, absorbing all liquids and thus getting a great taste. Next, we add the pieces of carrot and tomato, salt and pepper.
We lower the heat and let it cook for at least one hour.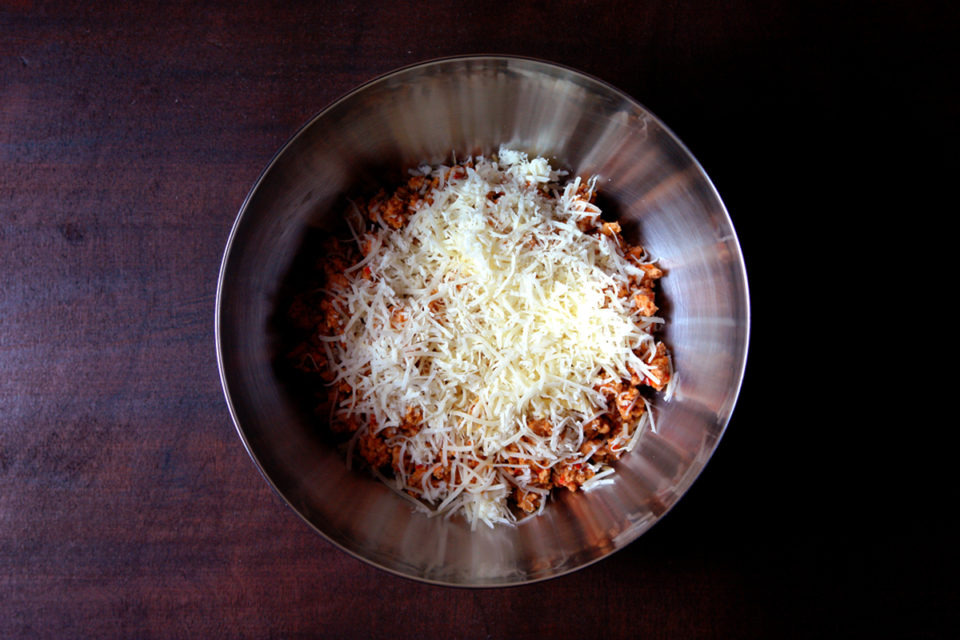 We then let the minced meat cool off and pour in the grated cheese, mixing it together.
Then, we empty the mix on a pan where we have placed well-oiled pieces of fyllo.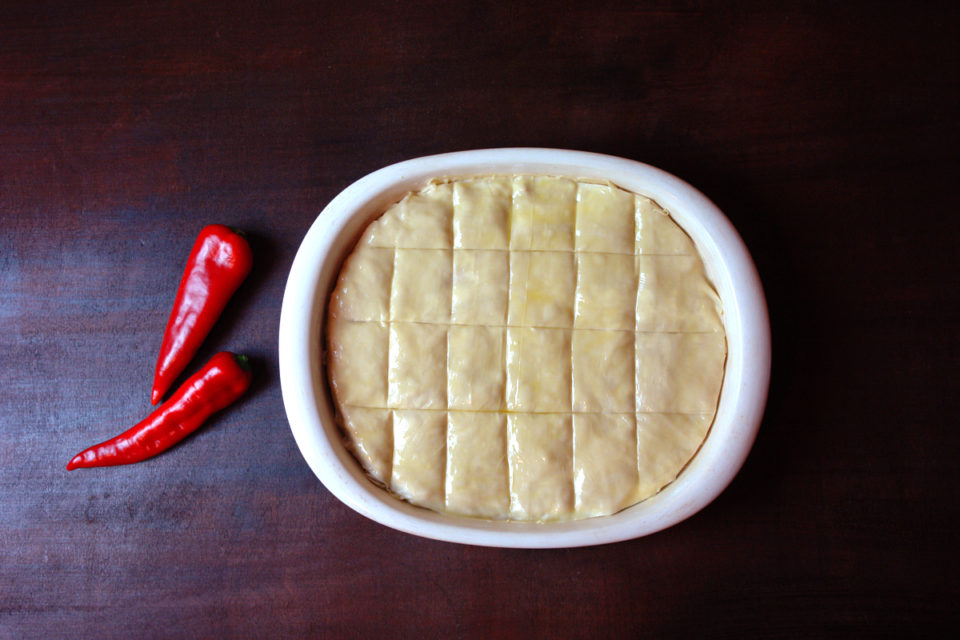 If you use "choriatiko fyllo", then four are enough, two at the bottom and two on top. Carve the pieces on the pie and bake in a preheated oven, in 180 degrees for about 40 to 45 minutes.