When we came back home from our summer vacations, we found awaiting us in the balcony… a huge, broad-leaved basil plant. It was clearly time to make pesto.
Although the pot that was home to the basil plant was not the largest or most comfortable place imaginable, the basil had reached one meter in height. Its leaves were sturdy, green and dense, which meant that the automatic watering system had probably done a good job.
Every spring, and quite early at that, even before May, we plant at least one broad-leaved basil which we "breed" for our own purposes.
We make pesto sauce every year and it usually keeps us covered for a few months. I don't know exactly why, but I do not want to make a big quantity, maybe because after three to four months the sauce's color darkens somewhat and it doesn't look particularly inviting. So, I keep a few jars, which Iast for about three months, and the rest I give away. Know that when you "harvest" the basil and make a quantity of pesto, it only takes a few weeks for the basil to bloom again inside the pot, so you can make the sauce again. Besides, basil pesto is not only combined with spaghetti. If you make homemade pizza, add a spoonful of pesto to the tomato sauce or you can make bruschette, toasted bread slices with pesto, chopped tomatoes and cheese.
INGREDIENTS
For the pesto
1½ cup basil leaves without stems
1-2 cloves of garlic
2 tablespoons of cashew, slightly roasted
50g parmesan in pieces
pepper
⅓

cup olive oil

300g spaghetti
For serving
IMPLEMENTATION
Place a large pot with plenty of water over heat, to boil the spaghetti.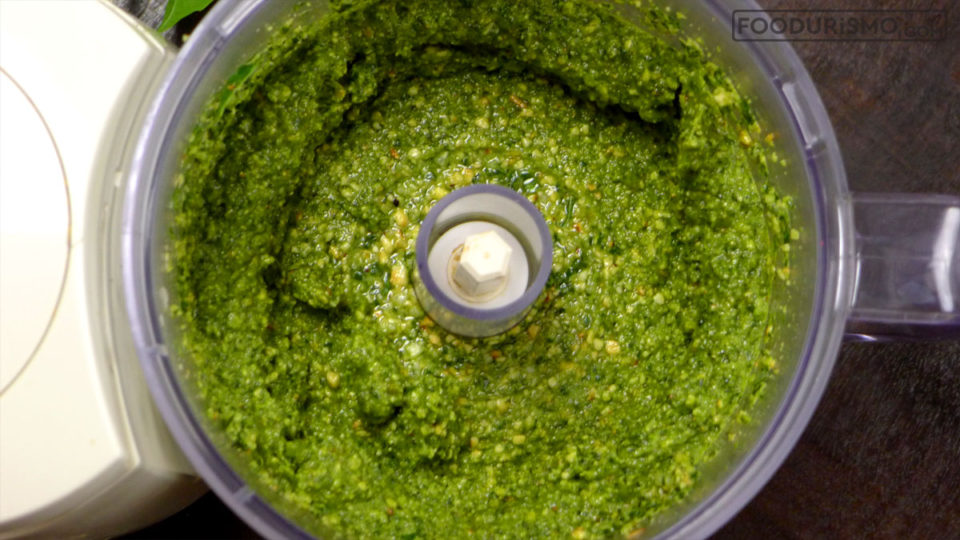 Meanwhile, prepare the basil pesto. In the blender, put all the ingredients for the pesto and beat them until the basil is properly mashed, giving you a creamy mixture.
But if you want to the cashews to stay crispy, do the following: put all the ingredients except the cashews in the blender, mix until they start to make a mash, and then add the cashews and resume blending. Thus, the basil will be almost smooth while the cashews will not.
Strain the spaghetti and, while it's hot, pour 2-3 tablespoons of pesto on them and mix well until the pesto covers the spaghetti.
The amount of pesto you prepare will, I believe, be enough for two more portions of spaghetti; since you got into all this trouble, keep some "reserves" for an emergency of sorts.
Grate a little parmesan on top and you're done!
TIP: If you want to make pesto in small amounts and consume it immediately or within 2-3 days, make the recipe as provided and keep it in the fridge. But if you want to make a larger quantity and store it, remove the parmesan and cashews from the original recipe and add some salt. Cashews, like all nuts, grow moldy with time and the parmesan will spoil if the pesto has to be kept in the fridge for weeks or months. So make the pesto, store it and when you want to eat it, just add a little grated parmesan and cashew nuts.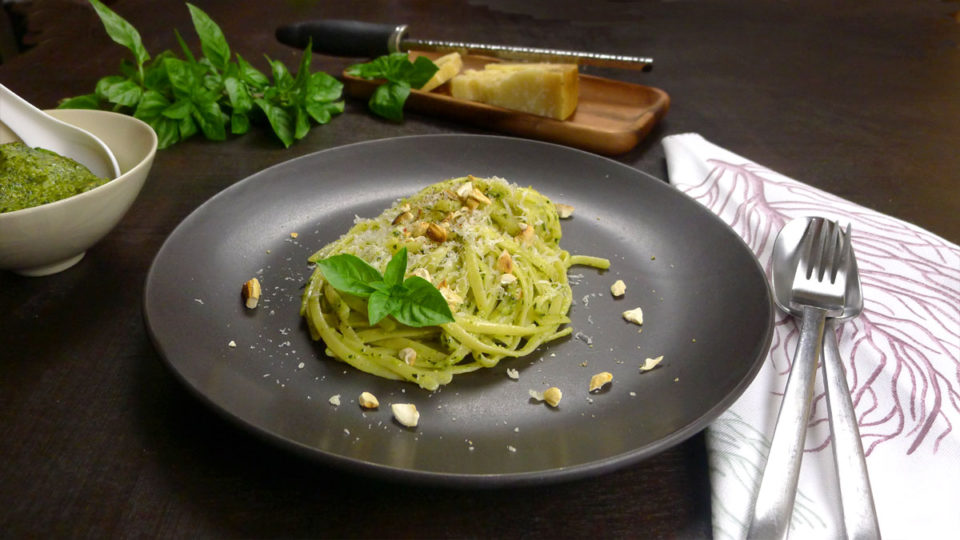 Of course, you can replace the cashews with an equal amount of pine nuts, to get the classic and best-known version of basil pesto.