Risotto is for some a "scary" project. Unfairly so… If one follows a few specific steps while cooking, success is certain.
All risotto asks of us is patience, or a bit of standing up at most.
First we choose the right kind of rice, Arborio, Carnaroli, Carolina or Vialone Nano. These are varieties of white rice, short and hard-grained, containing high quantities of starch that are gradually released during the cooking process and resist the "turbulence" of the constant mixing. The grains of this type of rice have the advantage of forming a gruel without losing their shape and without getting too muddy, that is unless we overdo it and go far beyond the baking time. But we can avoid this trap by tasting our risotto while cooking, because we want the grains to be soft but still "hold" a bit of essence inside them.
When we decide to make a risotto, we accept the fact that it will hold our attention exclusively for at least 18-20 minutes and that we can not prepare it beforehand and then warm it up, so it's essential to cook the risotto just before the time we want to serve it.
Risotto needs constant stirring, this is the process that makes a nice gruel and ties the flavors together.
Broth is the second major ingredient after rice, it is what gives deep taste to our dish. Usually, the appropriate risotto broths are made from chicken or shrimp shells if we make risotto with seafood. However, it isn't necessary to have very strong-tasting broths because they might overshadow the other flavors. A very strong chicken broth, for example, covers the delicate flavors of mushrooms or chestnuts that we might use.
The salami I used here had a very interesting paprika sauce, as spicy as needed, with a hint of sweetness. It comes from Drama, originating in the Sary charcuterie factory and its formal name is "Konyadan salami". I found it on my last visit to Karamanlidika of Fanis and I wanted it to dominate the risotto, so I watered down the jelly broth I bought from the supermarket a bit more.
Generally speaking, when we start making risotto then we understand and what we like to do best.
Nothing more convincing than a successful trial run…
Ingredients for 2 people
200g rice for risotto (Arborio, Carnaroli or Carolina)
10 slices of salami with paprika (not too thin)
1-2 large portobello mushrooms
1lt of chicken broth (store-bought or homemade)
50ml of white wine (in this recipe I used raki and it worked fine)
40g cow butter
1 onion melted or chopped
1 clove of garlic
salt and pepper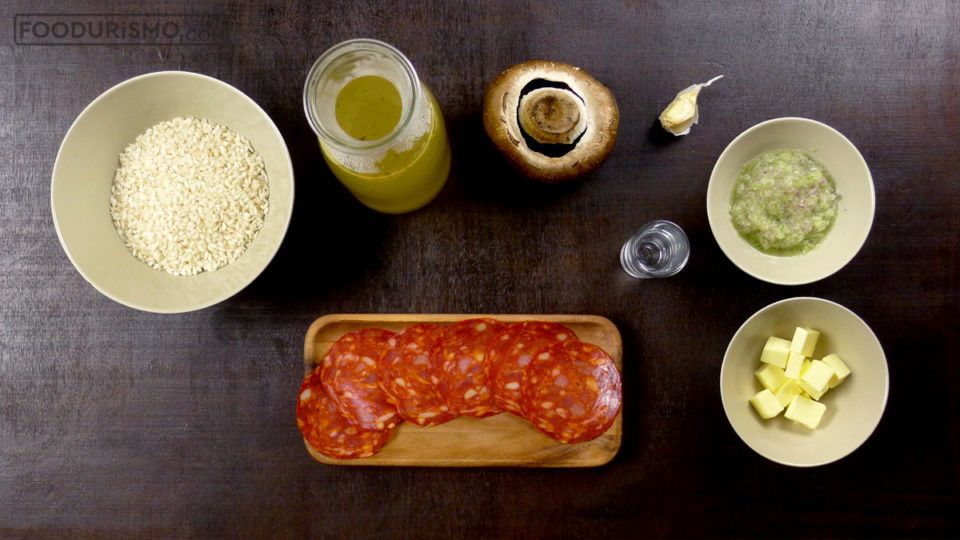 INSTRUCTIONS
Make the broth and keep it warm.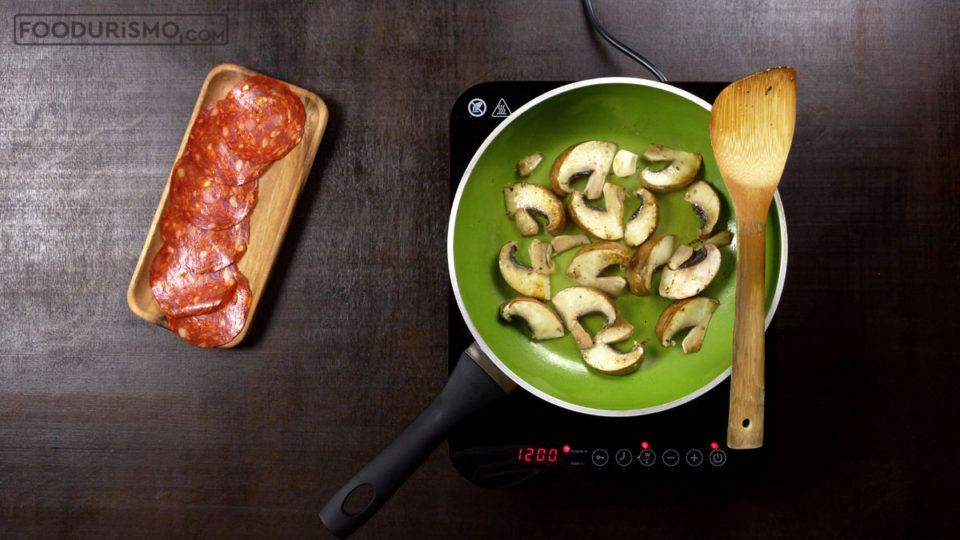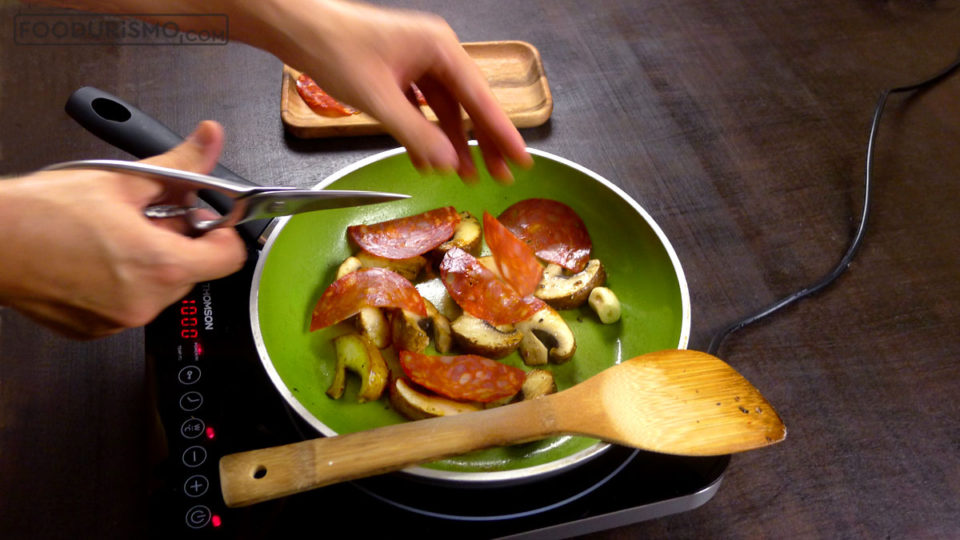 In a pan, pour some of the butter available (about 10g) and after melting it, add the mushrooms in slices. Add salt and pepper and sauté for a few minutes. Add the slices of salami cut into two, mix well and leave the mix aside.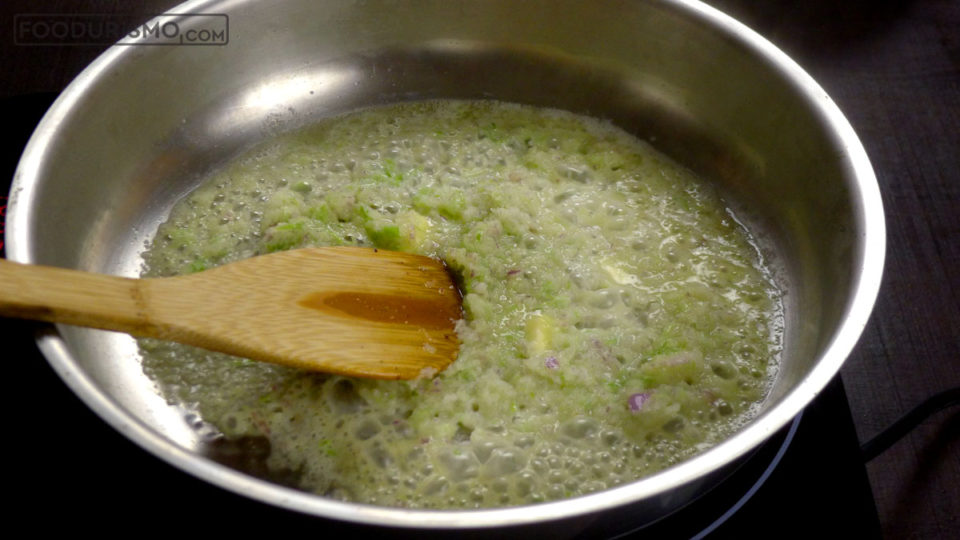 In a large saucepan or a shallow pan, melt the remaining butter and pour in the onion and garlic, sauté lightly.
Pour in the rice and stir very well, so that the butter gets to each grain of rice.
Pour in the wine and salt, pay attention to the quantity because if you use ready-made broth it already contains salt. Continue to stir until the alcohol evaporates. Keep the heat at a medium level.
Pour some of the broth and mix continuously until the broth is absorbed.
When the risotto starts to dry up, pour in some more broth. To know when the "right" moment is, drag the wooden spoon that you're cooking with at the bottom of the pot and when it "opens the way" to rice that does not "close up" then start pouring more broth. See the video and the pictures, they will surely… enlighten you.
For about one litre of broth, you can do about 4 – 5 instalments that you will pour in consecutively on the risotto. All the while – for about 20-22 minutes – you will have to constantly stir, the risotto wants us… standing guard, this is its worst "disadvantage".
Shortly before you finish cooking, 3 to 4 minutes before turning off the heat, add the mushrooms and salami, stir well, add parmesan and serve.
TIPS
It is a good idea to use a little olive oil (1-2 tablespoons) along with butter at the beginning of cooking, when you sauté the onion.

Also, at the end of making risotto you can add a small piece of butter, the risotto will get a nice hue. In this recipe I avoided it because the salami had already given us enough fat.

As for the garlic, I removed it shortly before serving; if you like its aroma, mush it and cook it from the beginning along with the onion. Another good idea is to sauté the mushrooms with garlic, it suits them a lot.