I've been a friend of espresso for years. The frappé coffee of my student days gave way to "French" filter coffee, and from there espresso was a one-way street. For many years I believed that my coffee maker, an inexpensive home espresso machine, gave me very satisfying coffee. Until I had some from my brother's much, much more sophisticated coffee maker. His Rancilio Silvia machine showed me that I was a long way from what I considered a good espresso.
A quick detour: You'll be right to think, but hadn't you ever had any good espresso at a coffee place? This is where I should say that since delving into good coffee, I realised that stores which serve espresso in its proper form are still very few. There are clearly many more now than before but I still must admit that Kiki and I have a very small list of places that serve excellent coffee. We'll talk about these places later on.
I made the first step by getting a Gaggia Classic, the coffee maker that promises very good coffee and is sold at a not-prohibiting price. Later on, I bought a mill (K3 Touch by Eurogat) because good coffee must be properly and freshly ground.
I've been a regular customer of Antonis Loumidis in Kiffisia for quite a few years. With his smiling face and patience, he gives me some tips, suggests some brands of coffee depending on where we left off last time, things he normally does with his customers for years now in his historic but always lively store. Besides, his store has a jazz playlist that keeps you hooked there.
Antonis is also the link between many suppliers and roasters of coffee. He goes around tasting, and only the best ones earn a spot on the shelves of his store.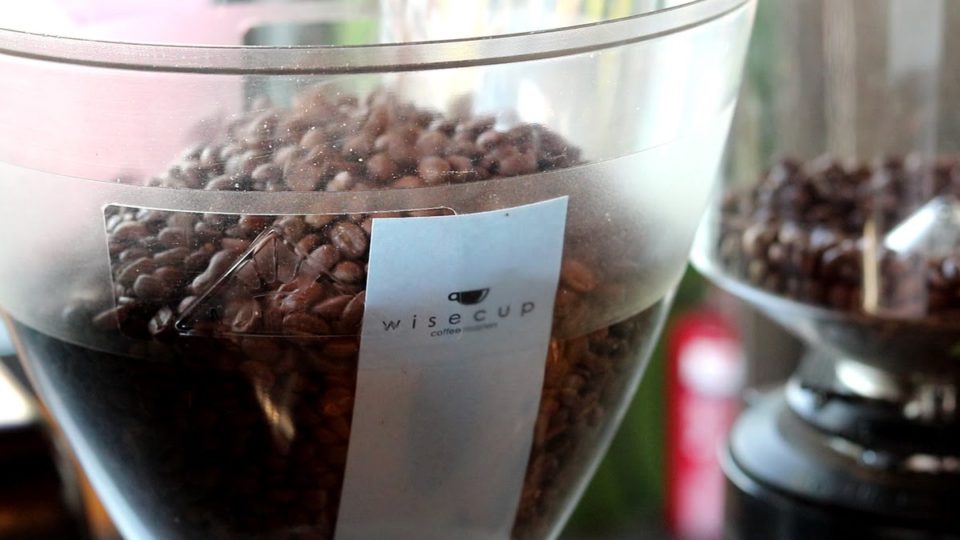 One morning, he excitedly told me that he was on his way to try the coffee made by one of his acquaintances who has been in this endeavour for a long time. The tasting was a success and as a result the Kifissia store was filled with the packages and the aromas of the coffee made by wisecup. When I asked him to suggest someone who will talk to me about espresso and show me the secrets of making it, the first one to come to his mind was Yiorgos Loukas at wisecup. The meeting was set up and so one November morning I, along with all the photographic equipment of foodurismo, traveled to the train tracks at Metaxourgio, where the roasting lab of the company is.
As I set up the lights, so assembled the group that would only start working, of course, after having their morning coffee. But Yiorgos would dedicate his day to foodurismo. He prepared for us some coffee specials that we'll examine in this section.
Yiorgos Loukas gave us a tour of the Green Room, the storage room where coffee in its original green state is stored in steady, ideal conditions before being roasted. There, we found a 100% organic Mexico Mountain wash coffee which becomes decaf after a completely natural process, as well as coffee from Guatemala, Colombia, Ethiopia and Brazil.
The left side of wisecup's main area is tased by the two coffee roasting machines. There's a smaller machine to roast small quantities of specialty coffee, as well as a larger one that handles the majority of the orders. We watched the roasting, a process that demands passion and patience. The green-coloured coffee is poured into the hot drum only after it's at the proper temperature, then roasted and dropped into the basket when the "roaster" knows it's ready. The coffee is infused with aired immediately but it rests for a few days before being packaged. Roasted coffee, Yiorgos tells us, emits carbon monoxide for several days. At wisecup, the work is methodical, based on the experience and research gained by its people for over 20 years.
THE IDEAL ESPRESSO
The basic rules of espresso are as follows: the right dosage of coffee is cut in a way that gives us one serving of coffee in a specific timeframe. In our case, the dose for a double espresso is 18.5 grams. The settings on the mill must make it so the 18.5 grams of coffee produced in placed in the portafilter, let 50-55 ml of coffee out of the machine within 25 seconds.
A thinner coffee grind will delay the flow of coffee and burn it out, making it too bitter. A thicker coffee grind will cause the water to flow faster into the filter, resulting in the coffee turning out sour, without proper body and cream.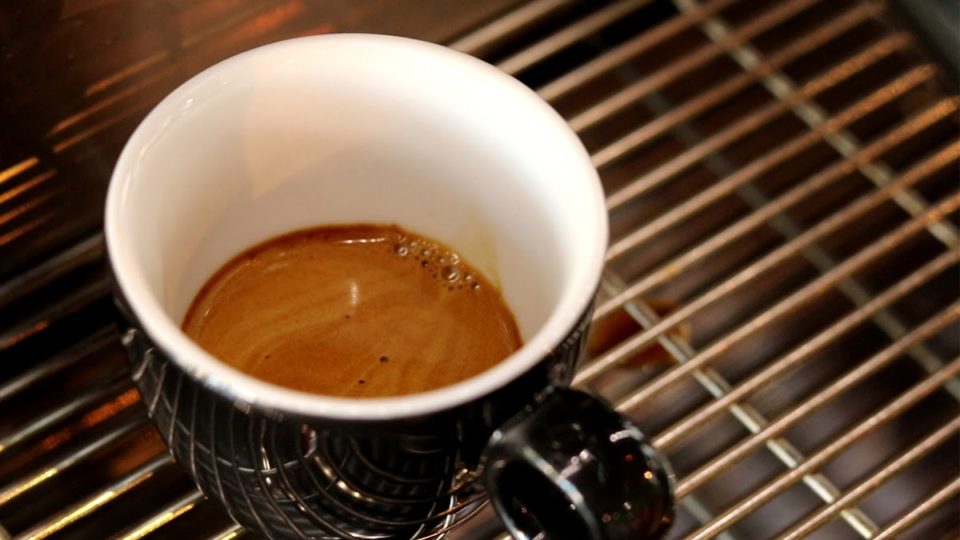 As for the rest of the details, our filter must be totally clear of coffee and water, before placing the portafilter we must let some water run from the group, we must even out and properly press down on the coffee (with 15 kgs of weight power) and lastly, we must start the extraction as soon as we put the coffee at the warm head, or group, of the coffee maker. We definitely don't want to burn the coffee before water runs through it.
It's also a good idea to use a warm glass. For example, we can fill the water with hot water or put it on the coffee maker for the 20 minutes it takes to warm up. The video demonstrates all these steps.
In this tasting, we had the opportunity to try the Macarena variety coffee from El Salvador, a coffee that offered strong but sophisticated aromas of chocolate, honey and plum, as well as concise flavour,  full body and creamy texture.
The residents and workers of the area are very lucky, because they have the opportunity to get their coffee from wisecup, any time of day. This is because, even though their main job is roasting, the wisecup team can, on most days, offer takeout coffee of excellent quality to the certified fans they've already acquired.
Up next in this section, we'll talk cappuccino. So be patient!