Gogges is a quite Doric dish! Plain, imposing in taste, tough to make and ultimately rewarding. That's why I've recruited an expert in gogges, my mother, to prepare this recipe.
I don't want to discourage you from making them – on the contrary, it's worth the trouble.
With three simple, common ingredients – flour, water and salt – and a little bit of practice, you can make a majestic dish. The small pieces of dough are kneaded, "holed in" as we say at Niata, into small pieces of pasta that look like clams. The ridges on the wood surface you'll knead them on will create a ribbed kind of pasta, and that's the exact element that makes it puffy and tasty.
Gogges are a delicate food that needs precise, soft forming, and special care until they go into the pot – spread them out somewhere, don't pile them up in a box – and best of all they're consumed immediately, hot off the oven! When making gogges, be ready to sit at the table and enjoy them as fresh as possible.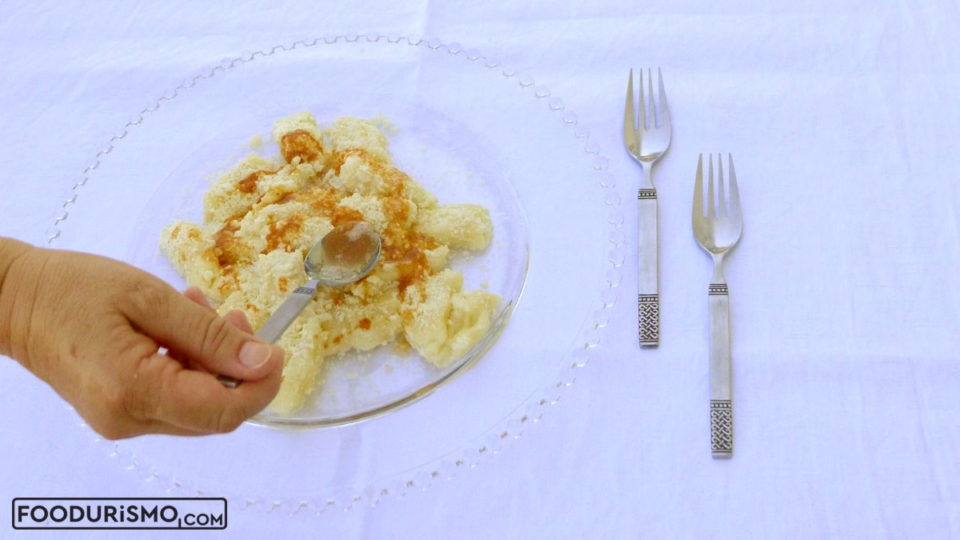 The strength of this recipe lies in the burnt cheese with butter, a golden brown, delicious sauce that makes gogges pasta shine. No other sauce, either from meat or from tomato, is as suitable for gogges; the burnt cheese is the perfect companion.
In Laconia, gogges may also be discovered as jolia, goggizes, goglies, they are either small or slightly bigger depending on the way every homemaker chooses to cook them. Whatever their name, they are a homey, handmade kind of pasta, with a huge history. The housewives of the past used to make gogges as their "fancy" dish, the kind of food that was meant to satisfy guests or those who lived away from home. The same tradition continues today.
They say that once you take one thing away from its place of origin, it exacts revenge on you by never being quite the same. I believe this is true on many occasions, it's nice to enjoy things in their proper place… but when it comes to gogges, I find it impossible to obey this rule. When I go down to Niata, I ignore the "sensitivity" inherent in them and I freeze them, transfer them to Athens in an isothermal bag filled with ice and immediately store them in my freezer.
In the video you'll see my mom making the gogges without proper lighting or carefully picked kitchen ware. It was filmed on an August morning, in the front porch of my family home at Niata, sheltered from the sun, just before we went swimming at Elia. The speed with which Kostas and I devoured the pot of gogges is… on real time.
INGREDIENTS (for 2 large portions)
500g hard-wheat yellow flour
250ml water (approximately)
1 teaspoon salt
a bit of olive oil
INSTRUCTIONS
On a small basin, pour the flour and the salt, stir well and start adding water and kneading.
We're gonna need about one glass of water, 250 ml, until we form a relatively tight, cohesive dough. After we've made the dough, knead it into a ball, sprinkle with a few drops of olive oil and let it rest for about 30 minutes.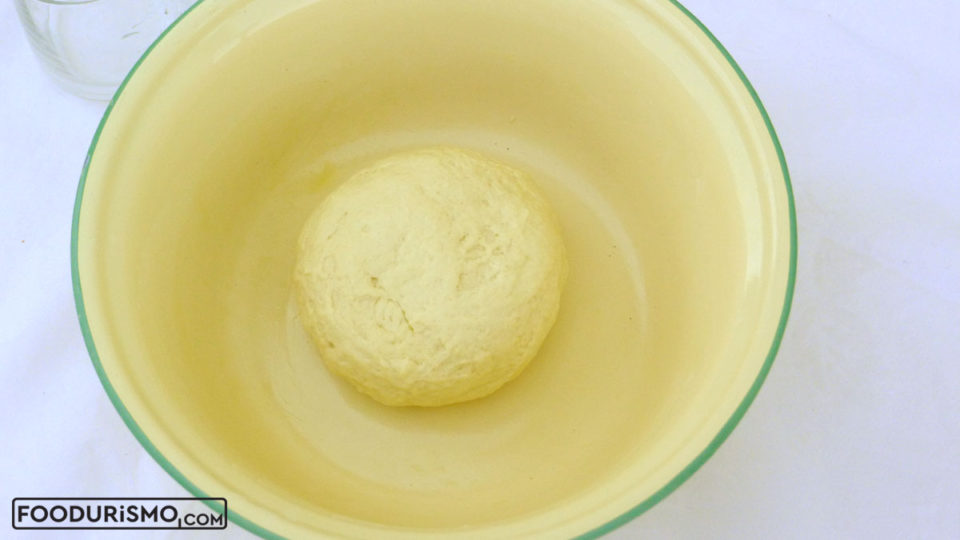 To make the gogges, that is to give them their clam-like shape, we need a piece of kitchen wood board with one rough side that feels very scratchy. This can be done by a carpenter, who will chop a piece of wood that is appropriate for kitchen use and create ridges in it.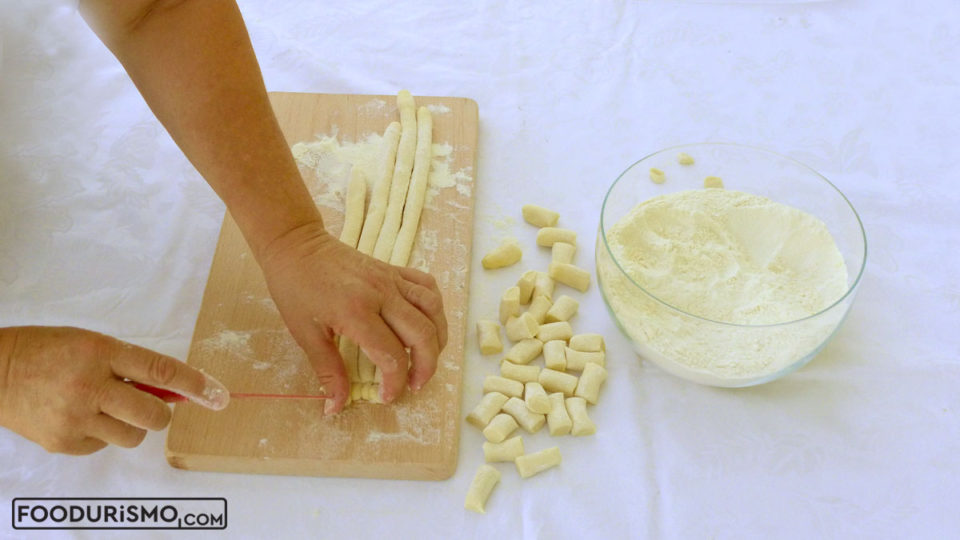 Divide the dough into smaller pieces and mold every piece into a thick string, just a bit thicker than a finger. Cut the strings into 2-centimetre pieces and sprinkle some flour on them.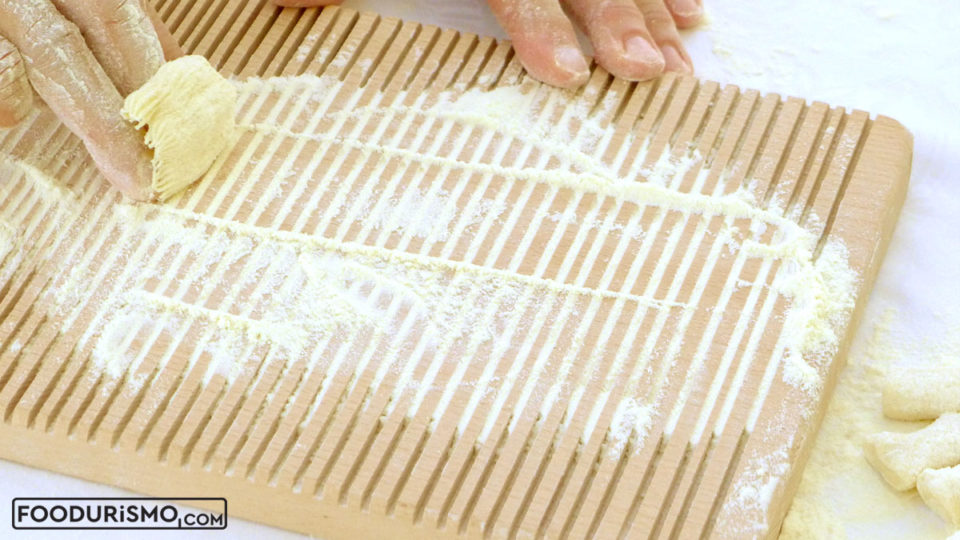 Next, stick three of your fingers together (index, middle and ring finger) and press down on every piece of pasta. Keep the pressure steady and pull towards your body until you get a piece of pasta that reminds you of a seashell.
Απλώνουμε τις γκόγκες που φτιάχνουμε σε μια λαμαρίνα φούρνου ή σε μεγάλο δίσκο πασπαλισμένο με pread the gogges you made in an oven sheet or a large tray sprinkled with a bit of flour, without cramping them so you don't ruin their shape. Place a big pot of water in heat, add thick salt and once the water starts boiling throw in the gogges, stir carefully and softly with a wooden ladle and boil for 18 to 20 minutes.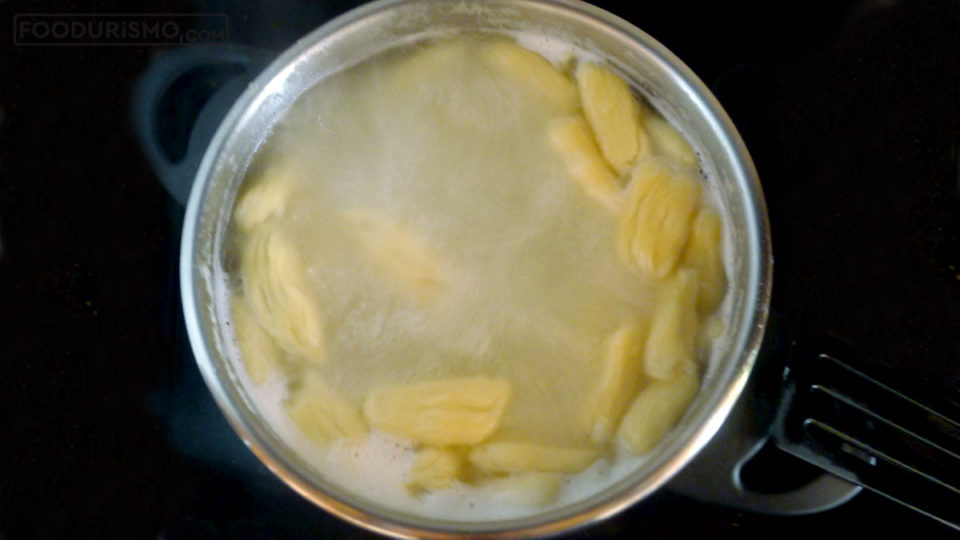 It's better to taste them and make sure they're done, but careful not to over-boil them. Take the gogges out of the pot with a pasta ladle, a few at a time, spread them on a large plate and sprinkle with grated mizithra or a mix of mizithra and kefalotyri.
In a small pot or pan, add a spoonful of cow butter or sheep's butter, add three spoonfuls of olive oil and as soon as it heats up pour 2-3 tablespoons of mizithra.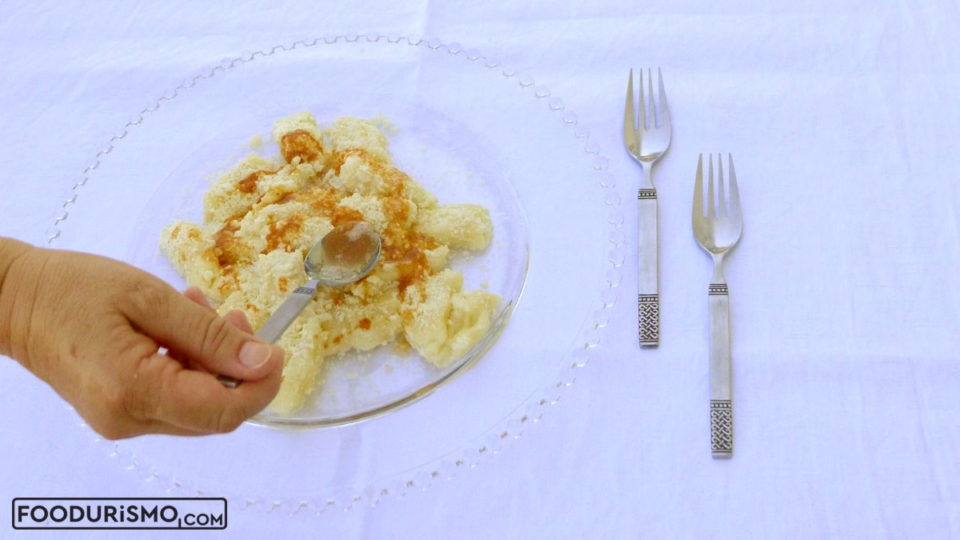 Stir well until the cheese becomes golden, make sure it doesn't burn and immediately pour it over the hot gogges.