Ossobuco is a specialty of meat that in the last few years has become something of a trend, one often seen in internet recipes and restaurants. It's a cheap, "humble" piece of meat, that is nevertheless very tasty.
In Italian, Ossobuco means bone with a hole, actually veal shank. There is a lot of meat on it, as well as collagen, so a bit of slow, patient cooking produces delicious, honeyed red-sauce roasts, braised meat and soups. The marrow on the inside of the bone releases a bonus extra delight that is the perfect treat for meat lovers.
It is usually cooked the Italian way, with Gremolata, a white, simple condiment classically made of herbs, garlic, parsley and lemon.
Today, I'll give you the red tomato, wine-infused version of this recipe, which tastes just as good. When you make it for the first time, you'll discover that on top of having an amazing taste, it's also super easy to make.
INGREDIENTS FOR 4 PEOPLE
4 ossobuco pieces (medium size, if they're large 3 will suffice)

1 large onion, squarely chopped
1 large carrot, squarely chopped
2 medium tomatoes, squarely chopped
½ teacup of tomato juice
1 cinnamon stick
1 bay leaf
1 "short" tablespoon of sugar
150ml red wine
salt and pepper
80ml olive oil
400g orzo, medium size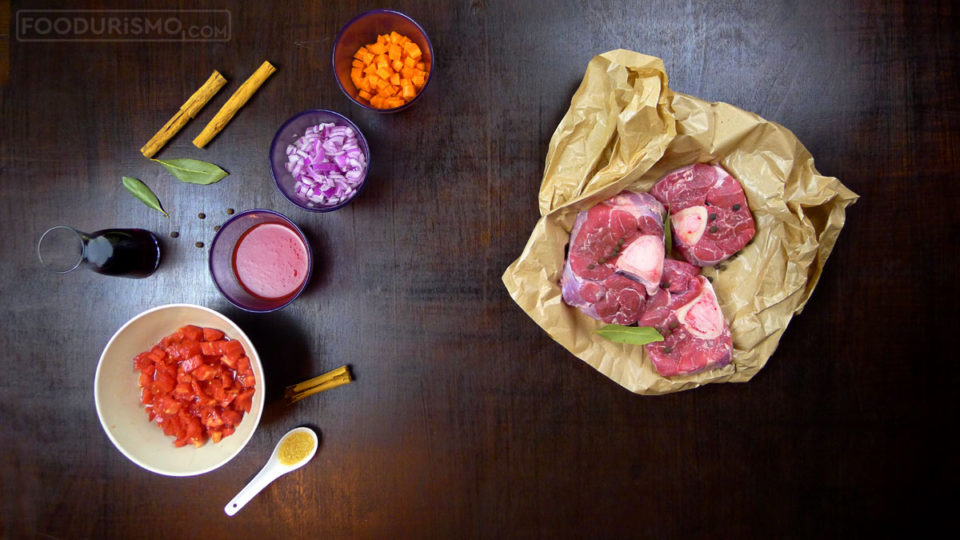 INSTRUCTIONS
Wash and wipe down well the pieces of meat, pour salt and pepper and spread some olive oil on them.
Pour a bit of olive oil in a pot and when it's warmed up, add the pieces of ossobuco and make sure they get a proper golden hue on both sides.
Take the meat out of the pot or, if it's spacious, place them aside and pour the onion, the carrot, the cinnamon and the bay leaf and sauté for 2-3 minutes.
Douse with the wine and let 1 or 2 minutes pass while the alcohol vaporises.
Next, add the chopped tomato and the juice, the sugar and a glass of semi-warm water. Lower the heat and let the food boil for at least 2 ½ hours or until the meat becomes very tender.
Once you see that the ossobuco is ready, take out the pieces of meat from the pan, keep them warm on a large plate and pour in the orzo.
Stir well and let it simmer for 12-15 minutes. You might need to add some water to boil the orzo, if the food doesn't have enough liquids. Usually, meat will release food while being cooked, however some times it becomes absorbed.
If, before pouring in the orzo, you see that you have a "tight-knit" red sauce, then surely you will need to add water; but if the sauce is thinned down, then you probably have to be a more stingy.
When the orzo is close to being ready, just 3-4 minutes before taking it off the heat, put the meat pieces back in the pot and finish your cooking like that.
It's better to eat food around the time you made it. On top of the dish, grate some pecorino or parmesan cheese or any kind of cheese you like. Have a glass of wine too, and I'm sure you'll enjoy it!