Elafonisos lies twelve minutes away from the Laconian coast by ferry. Twelve minutes, barely enough to climb the deck of the small ship and get a taste of what's to come…
The small coast town of Elafonisos is quaint, quiet and not terribly picturesque or exciting… The island's incredible attraction, anyway, is its emerald waters, its thinly sandy beaches, the all-white deep of its seas and the hot, sun-kissed sand hills.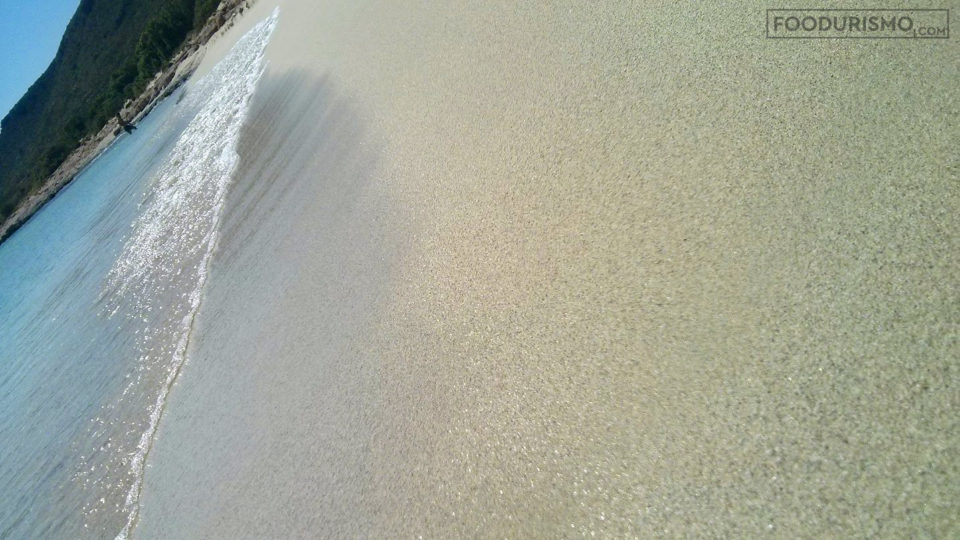 It's that feeling of diving in and coming back up for air and wondering if all the surrounding beauty is real… and yes, it's absolutely real, it's that #nofilterneeded beauty, as they say in modern Greek social media speak.
Elafonisos is a small island, its corners quickly and easily discoverable. But it takes a little more time to really know it, to love it, to miss it during the winter, to become its faithful fan, to think of it as more than a dive into its beautiful seas.
Elafonisos doesn't offer evening walks in picturesque little streets, or trips to windy mountain villages, or breathtaking scenery changes, or crazy clubbing; it captures you with its unique seas, among the most beautiful you'll ever swim in, with these marvellous waters that make you feel complete, rested, light as a feather.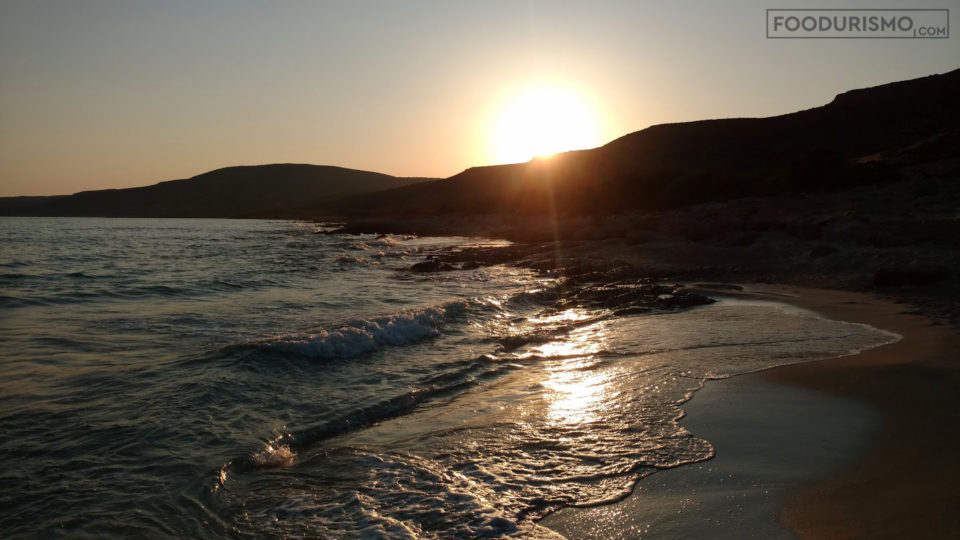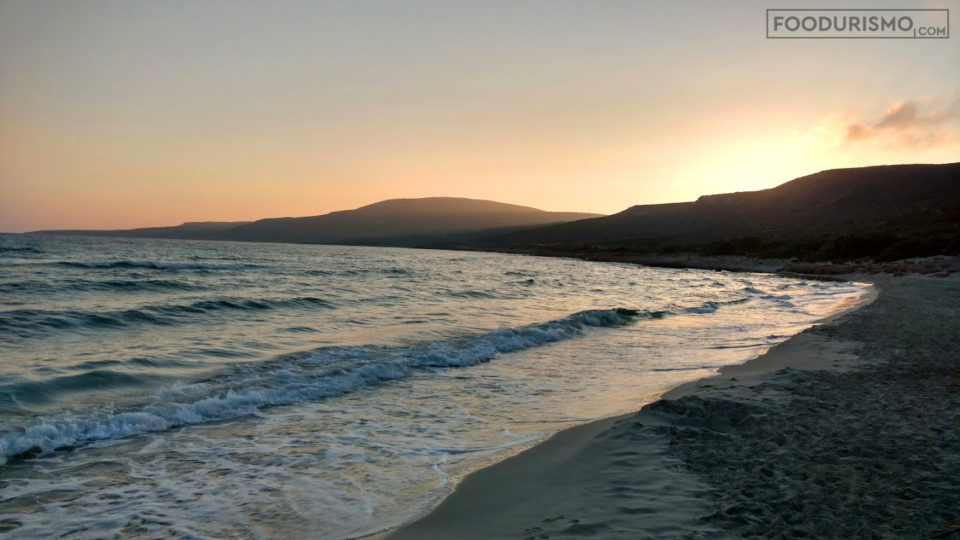 Elafonisos is welcoming to every visitor. It loves the typical Greek family barging through with toy buckets, food containers and toddlers; the family of quiet Europeans arriving fully prepared with kids and dogs; the crazy-in-love couples; the loners who want to decompress and top up their energy; the fun-loving groups of friends who are looking to camp out; the bohemians who enjoy the island even though it's changed; the now (almost) obsolete free campers. Elafonisos shares its natural beauty and energy with everyone.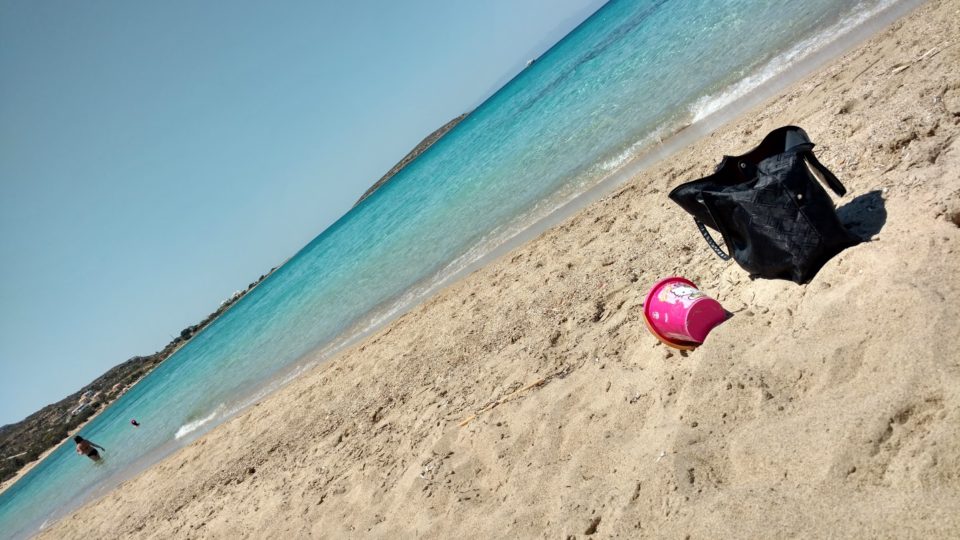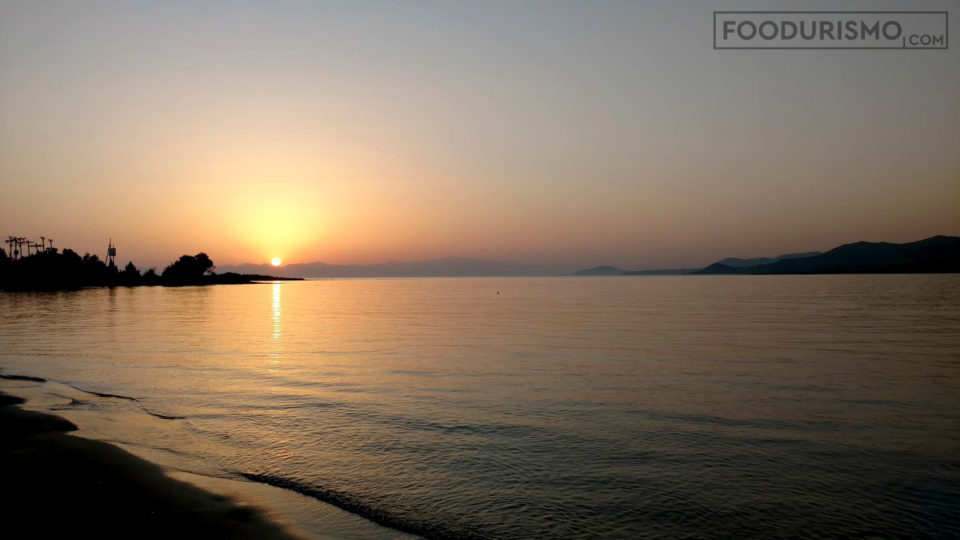 Often, when I talk about Elafonisos to friends and acquaintances who haven't visited it, I realise that, in the numbers at least, the disadvantages I mention are far more than the advantages. The trip from Athens is long, the route is quite tiring, island traffic needs eyes fully open, construction is inconsistent and aesthetics are preserved only in some buildings.
But for me, Elafonisos is a beloved destination, one that is familiar and entirely stress-free. Many times during the winter, I think of the long-winded "lounging" at Simos, the easy swim in my beloved Lefki, the walks on the beach of Panayia, the souvlaki at Trakena right after the beach, the chattering with Chrysoula at the "Antonis" taverna until "the food is ready" and that's when I smile, I lighten up, I calm down.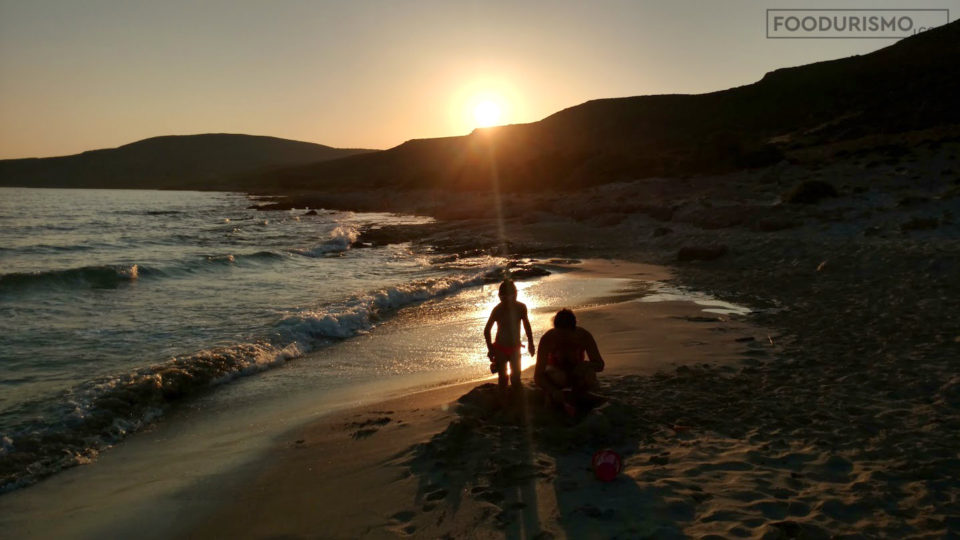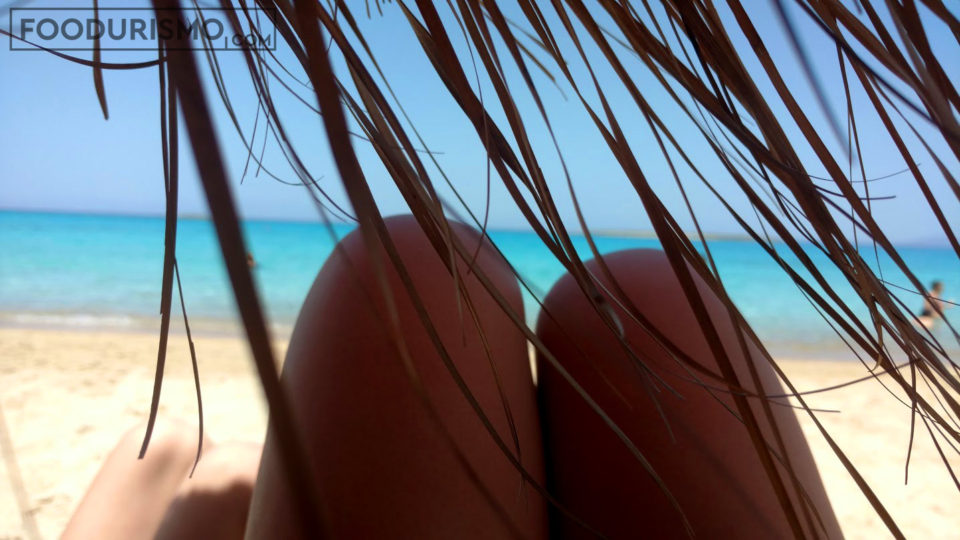 These are the gifts offered by a place, the extra little something that conquers you. For us, Elafonisos is no longer just an island where we go and have a nice swim; even if we go someplace else, we always drop by for a visit, and get a taste of its deep blue. We need Elafonisos, it's in the family…
Alexandra, who is only 6 years old, didn't want to leave the last time we were there, because, as she said, "I got used to this place and I like it"; and Kostas, a big "city kid", confesses, to my great surprise, that he could actually live there!
But in many things in life, the important is not for the advantages to be merely more numerous, but to be so strong, so essential and vital that they take the focus off the disadvantages, in a way that makes you believe it's worth it. It's worth it to travel to Elafonisos, because the rewards are many…
The advantages of Elafonisos are so powerful that yes, it's worth all the trouble it takes to reach this precious, coveted corner of Laconian land…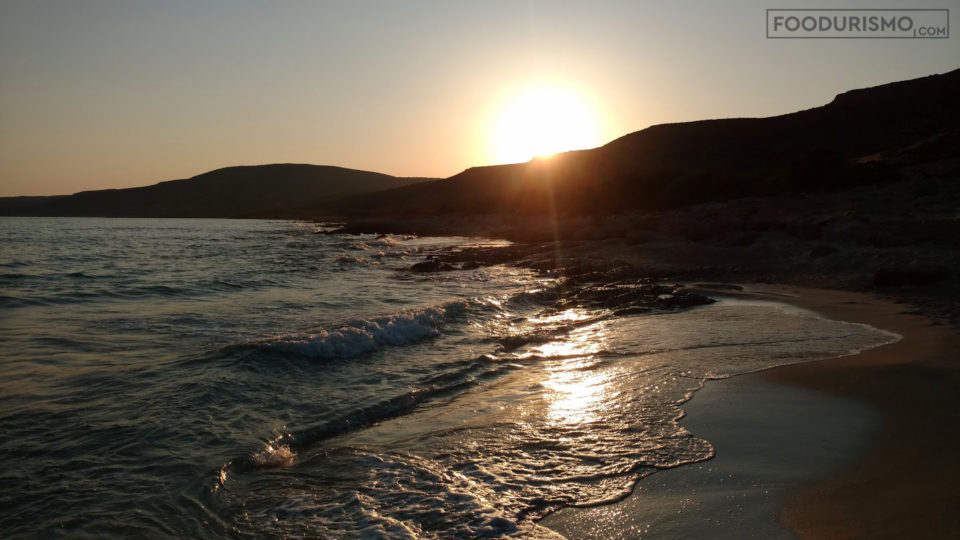 TA NISIA TIS PANAYIAS
A twisty, short road takes us from the Panayia beach to the taverna "Ta Nisia Tis Panayias".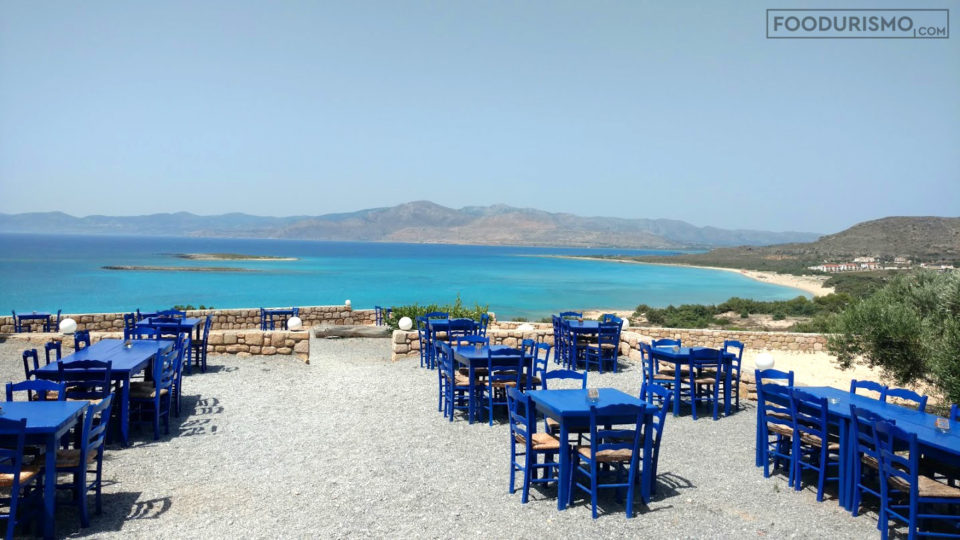 Mrs. Alexandra with her husband Dimitris and two of their three children, Yiota and Panayiotis, serve their food in the tavern's courtyard with a terrific view.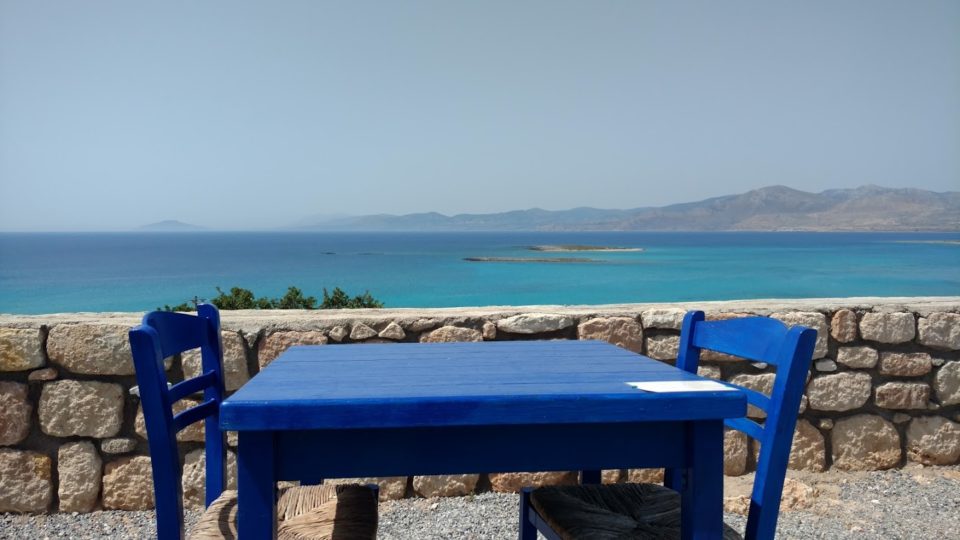 Rooster in red sauce, stunning fish soup, shrimp spaghetti, grilled meat, you can enjoy it but without looking at it a lot…
…since your eyes will be captured by the breathtaking view of the Panayia beach, the three small Kyklopas islands and the Laconian coast across the sea.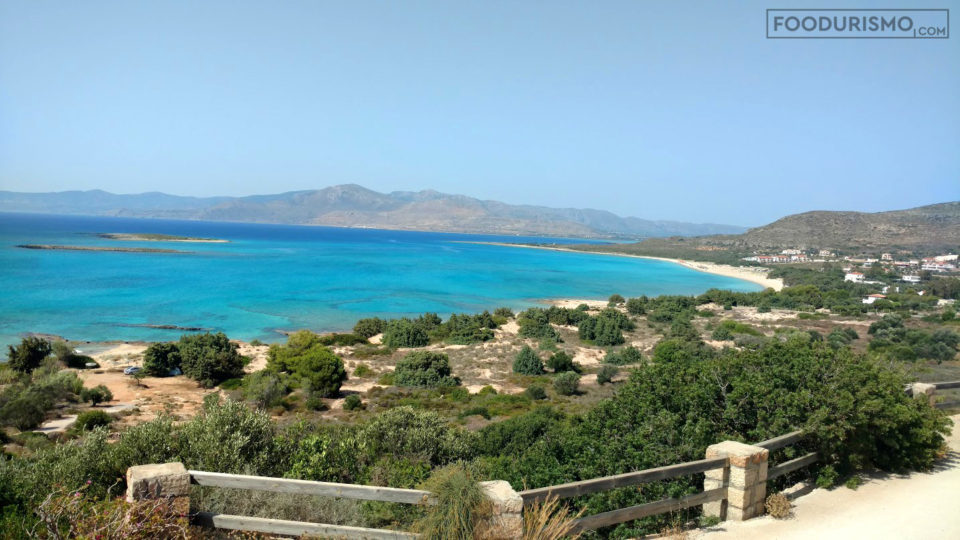 This taverna has the best view of the island, so don't miss out.
ARONIS FISH TAVERNA
I have a soft spot for "off center" spots and I'm almost always right.
I'm attracted to establishments that are not in the way of the crowd, but are hidden and quiet, discovered either with attention and searching, or with the help of a connoisseur's advice.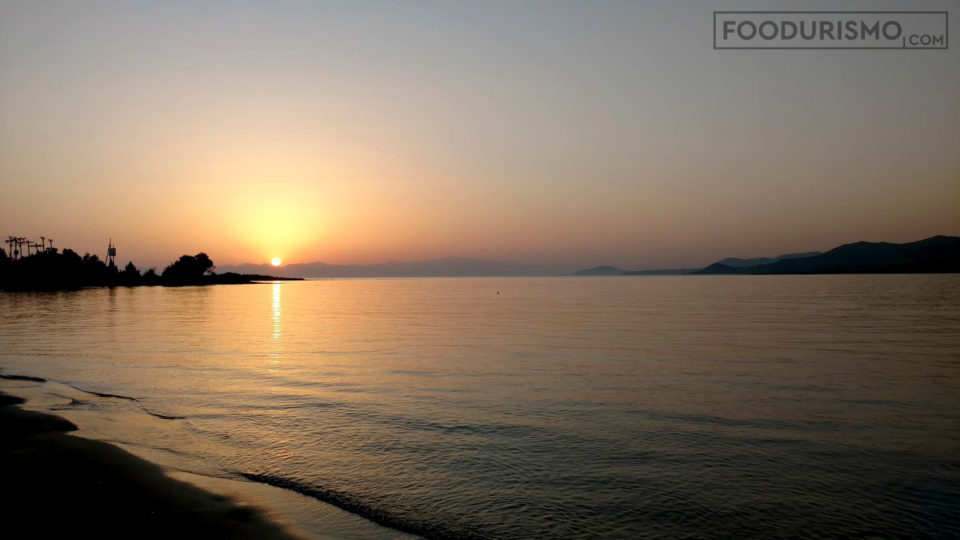 Aronis fish tavern is such a place. Right after Kontogoni, take a right to the seaside cement street, and right there by the waves you'll find the tables of this amazing taverna. Last time we were there, we tasted exquisitely fried barbounia, wonderful sardines on the grill and a delicious marinated octopus.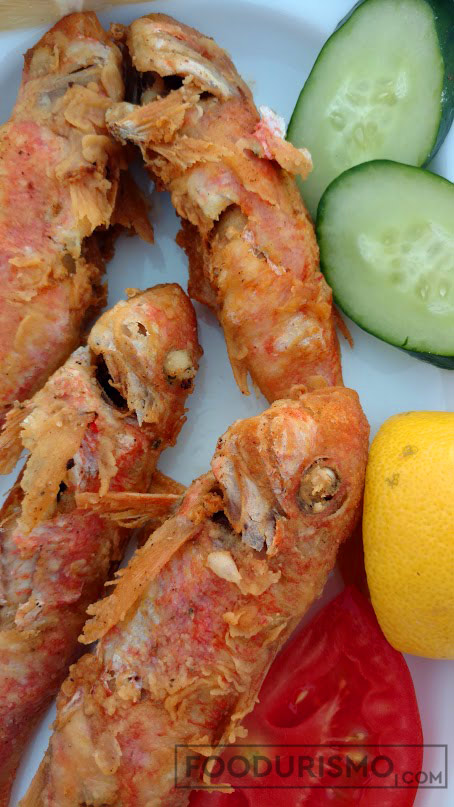 Aronis has loyal, sworn friends and has earned the recognition of his peers, which is rare and tells you all you really need to know.
ANTONIS TAVERNA
On the seaside walk, at the port of Elafonisos, you'll find, among many other tavernas, Antonis. We've known Antonis and Chrysoula for almost as long as we've been visiting Elafonisos. They are among the very few people who we go and say hello to as soon as we get off the boat.
Antonis is the boss, and his quiet strength, his eyes and his ears are everywhere. He is, for the third decade straight, running the business that he himself started as an ouzo taverna. His wife, Chrysoula, cheerful, talkative and restless, is the soul of the taverna.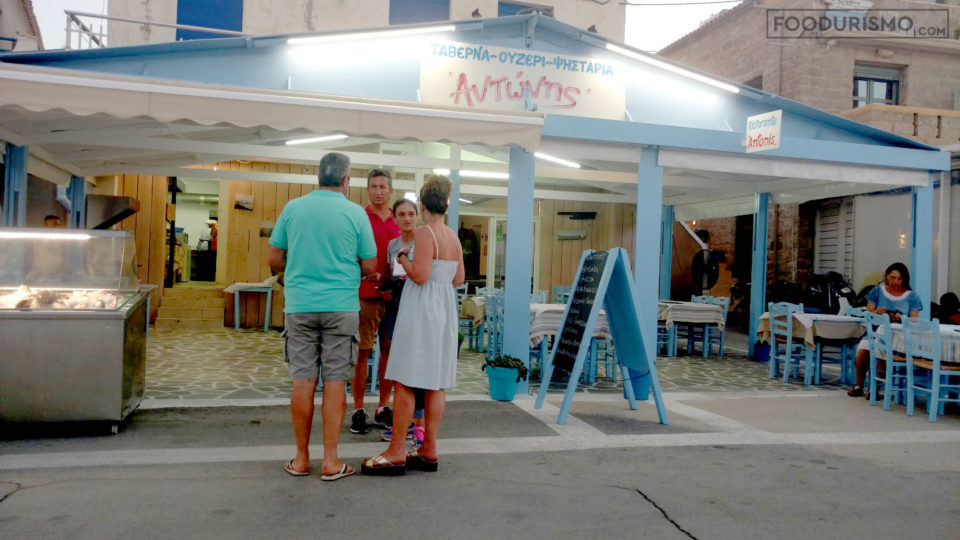 Antonis serves the most wonderful lobster spaghetti I've tasted…
…grills fresh fish – sometimes caught by Antonis himself…
…and most likely makes a memorable fish soup, judging from the enthusiastic reactions of the group eating to the table next to ours this summer. But I haven't tried it myself yet…
Antonis may be the leader, but the executive arm is Mrs. Maria, Chrysoula's mom. Whatever comes out of the kitchen has been carefully curated and supervised by this watchful, tireless woman.
Mrs. Maria is a self-taught, homemaking cook, whose integrity is on full display when she is called upon to cook for many guests and customers.
TRAKENA
Trakena is not just another souvlaki place. It's an institution.
It's a place that can't be overlooked. Oil-free, crisp pita with an epic meat patty and fried homemade potatoes on the side.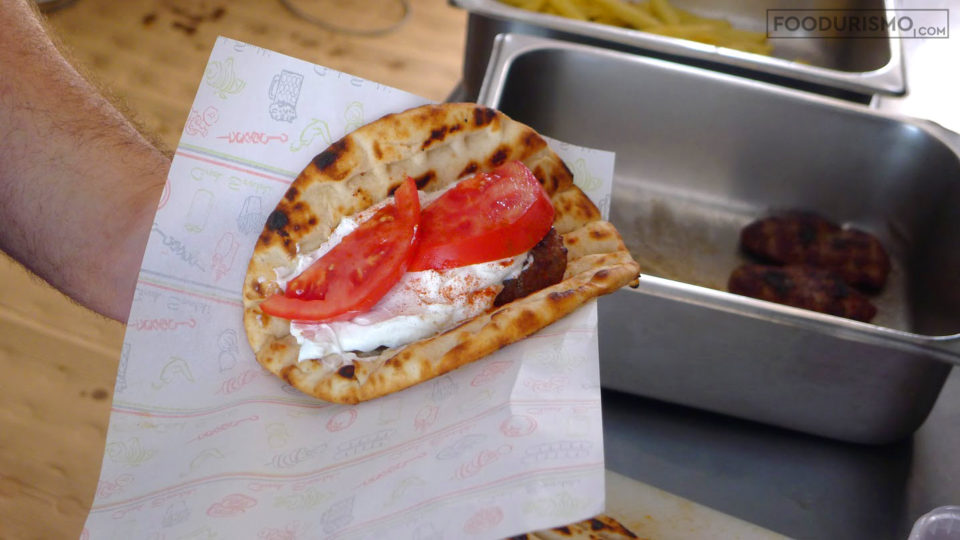 And when we say "grandma's meat patty" we mean it; it's not just a catchy name on the menu. Grandma is really there, almost daily.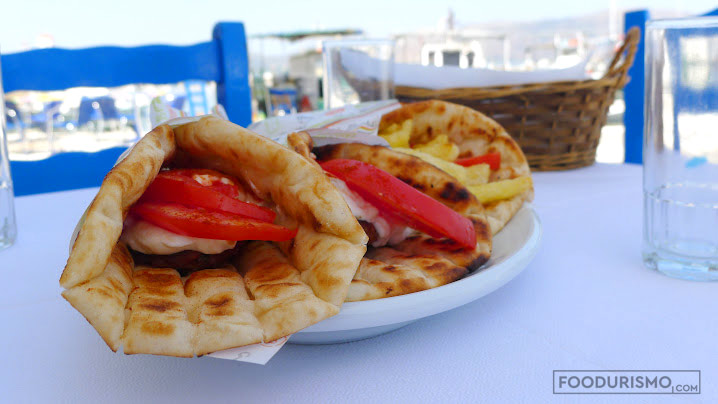 Trakena was for many years hidden away inside the village of Elafonisos, but in the last few years it's come out to the seaside and serves food at the small port, next to the fishing boats.
TO MEGALO TIGANI
In the area of Megalo Tigani, in the beginning of the settlement, where the ferries are anchored, there's a really nice place formally called "To Megalo Tigani" but known by the locals as "Kanadeza" (The Canadian). A sweet lady, who for years lived in Canada, has come back to her birthplace and along with her very polite children they operate a business that makes special sandwiches, nice pies and, of course, pizza…
…which can be delivered anywhere on the island, either where you're staying or where you're swimming
And they also have great soft-serve ice cream…
ΤΟ ΚΟUΖΙΝΙ
In the Megalo Tigani area, a peculiar, for the island's standards, restaurant has been operating: it's called Kouzini. The cramped kitchen of grandma's house, the one she called "kouzini", where she performed tough housework, was turned by her grandson into a lovely restaurant. The corner building is restored in a way that maintains the simplicity and highlights the masonry present in many old houses. In the small yard-veranda, there are monastery dining tables and benches, woven pillows and bedding on the window sills. Kouzini cooks traditional recipes too, but, as you may realise, the young owner is determined to give the cuisine a modern vision. He cooks meat with tasty marinade, seafood and strange salads. Kouzini is not a never-before-seen concept, but the locale has a nice atmosphere, with tables by the waves, polite staff and great cocktails. It's a good suggestion if one day you want to switch it up from the traditional cooking and fish meze, or enjoy a nice cocktail on the side.
STIN AKRI
Just like the name says, this place is at the side of the street, as you take a turn from the port on the way to Kontogoni, across from the Ayios Spiridonas chapel. This all day locale, with tables on the the sandy beach, serves drinks, light snacks and a decent, tasty breakfast. The spot is truly special, in the morning there's some nice shade and in the evening you'll find a cool breeze even if every other place in the village feels warm.
MAMMY MAM
Στην περιοχή Κοντογόνι, ανάμεσα σε ψαροταβέρνες, σουβλακερί και rooms to let υπάρχει η κρεπερί At Kontogoni, in between the fish tavernas, souvlaki places and rooms to let, you'll find the Mammy Mam creperie, where crepes are only one of dozens of snacks served by the owner, a girl who is always on the move.
My beloved Kiriaki, who shares my name, a proper "it girl", makes coffee, fresh juice, sandwiches, omelettes, crepes, waffles, pancakes, soft-serve ice cream, homemade lemonade…
Every year we visit, there's something new she's come up with and she never listens to our order because there's always something new we just have to try. We're practically official tasters by now…
SIMOS
Even the richest vocabulary, of any language, is too poor to describe the charm, the colors and the feeling you get when you reach Simos beach.
As you walk on the warm sand or the wooden path leading to the beach, you realize that the descriptions of a "Maldives-like" beach is not an exaggeration.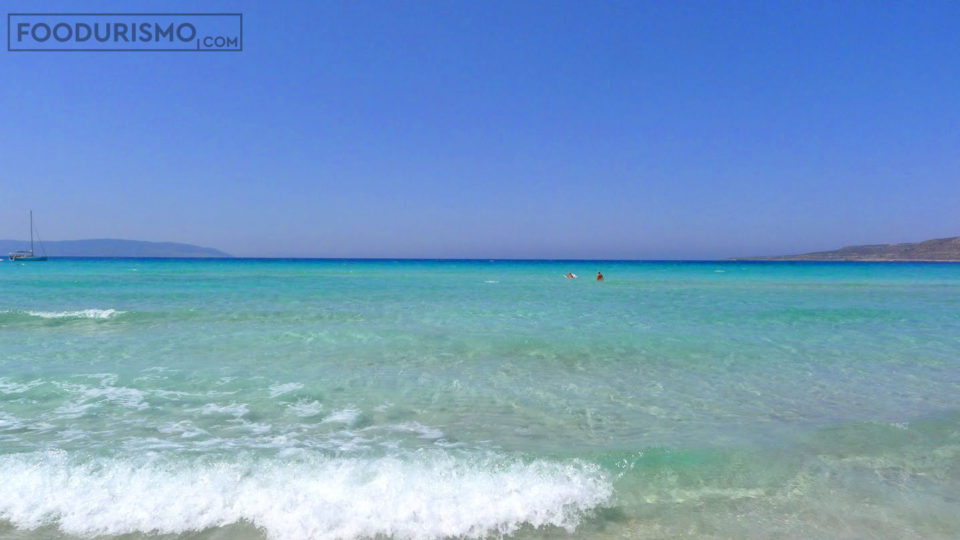 No matter how many idyllic pictures you've seen, there's no comparison to what you have at your feet…
No matter how many 360-degree videos you've envied, nothing can describe the awe you feel when you're in the Simos waters and you look around you…
You're not likely to find a sea more beautiful than Simos; whether calm or full of waves, it will enchant you and you'll be "doomed" to return…
LEFKI
The all-white, small beach of Lefki is my great love.
I always wait with bated breath to see it as it emerges from the hillside road, driving from the Elafonisos village to the south side of the island.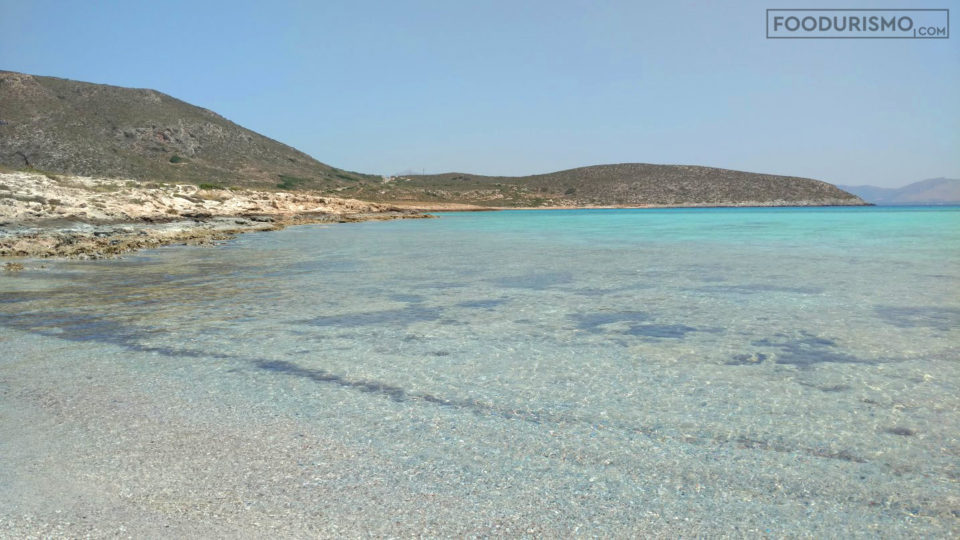 Somewhere east of Simos, across Neapoli, is the windless beach of Lefki: petite, quiet, without sun loungers and umbrellas. It has white sand, emerald waters and small rocks at its edges.
PANAYIA
At the western side of Elafonisos, at Kato Nisi, is the beach of Panayia.
It's a local favorite, not without reason. It has exquisite waters, a beautiful view of the three islands, Kasela, Prasonisi and Lefto, as well as the coast of Mani, on the other side of the bay.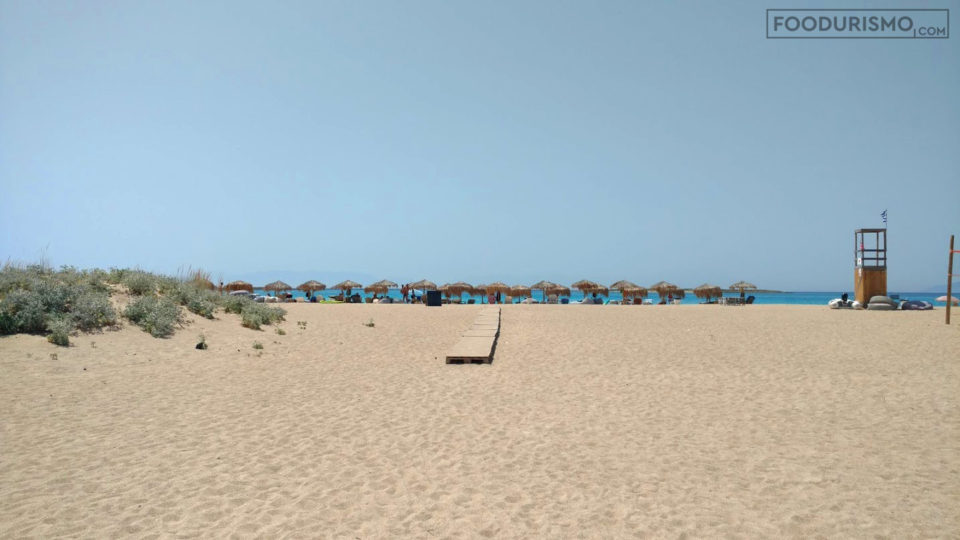 For many years I stuck my nose up at this beach, considered it nothing special. That was a big mistake. The Panayia beach is a majestic place, with shade from the cedar trees, with diamond waters that go deeper than Simos, a few metres in.
In the last few years, I think I've enjoyed swimming there, more than on any other place…