This tart contains two seasons: winter, which is gone no matter what we do, and spring, which just arrived! That was what I was thinking when I was making it … Winter leeks give this tasty and somewhat ​​spicy tone and the asparagus, now on its best form, is a delicious and nutritional treasure.
They contain ingredients that help us eliminate heavy metals from our body, fight off free chemical radicals and are generally ideal for a detox!
Also, asparagus has only a few calories! On its own, that is… Of course, I propose to you to put all these amazing spring vegetables that are only good for us, on puff pastry…
But look at the bright side. You will enjoy the beneficial aspects of asparagus as well as the delicious taste of buttery puff pastry and stunning goat cheese. Two for the price of one!
I mean, it's good to limit calories in the summer but don't be fooled… the pleasure granted by a nice dish is demonstrated in our bodies in a way. A person of sated hunger has a different air…
INGREDIENTS
1 puff pastry sheet

200g of asparagus
1 piece of leek in round strips (white and soft green part)
150g of goat cheese
1 egg
1 tbsp of cream cheese
2 tbsp of grated parmesan cheese
2 tbsp of milk
2 tbsp of olive oil
Salt and pepper
INSTRUCTIONS
In a pot, add water and boil in order to scald the asparagus. Wash the asparagus with tap water and cut about 4 centimeters from the base of their stems, in order to keep only their tender part.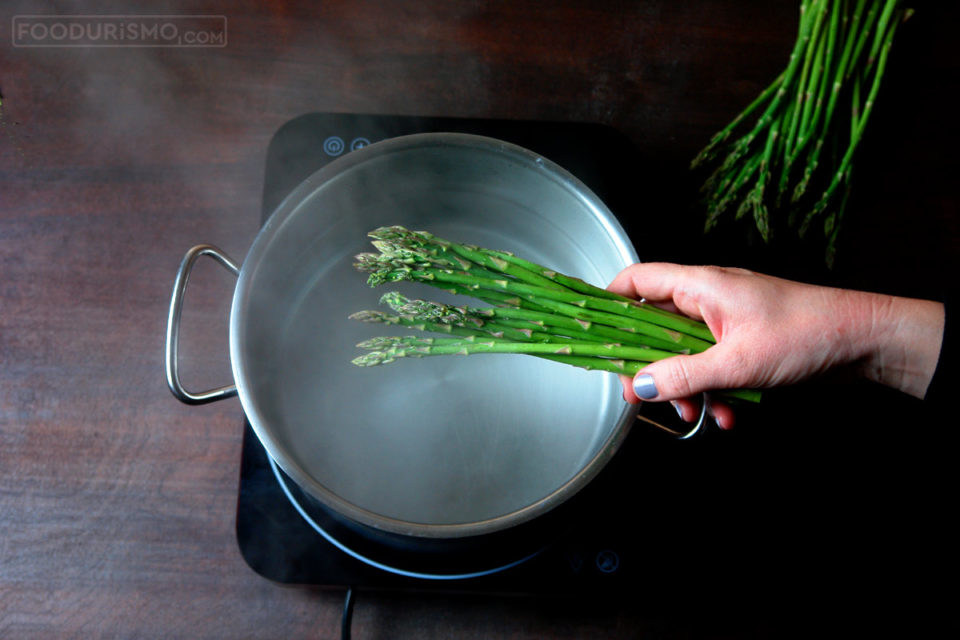 When the water is boiled, pour the asparagus into the pot and give it only 2-3 minutes to boil with the lid open. Have a bowl of water and some ice cubes next to you.
When you remove the pieces of asparagus from the saucepan, pour it directly into the bowl with cold water to stop their boiling, so that they don't soften too much and lose their lively green color. After 3-4 minutes take them out of the cold water and place them on a kitchen roll.
In a pan, add the olive oil along with the leek and gently brown for 5-6 minutes. Then leave them aside.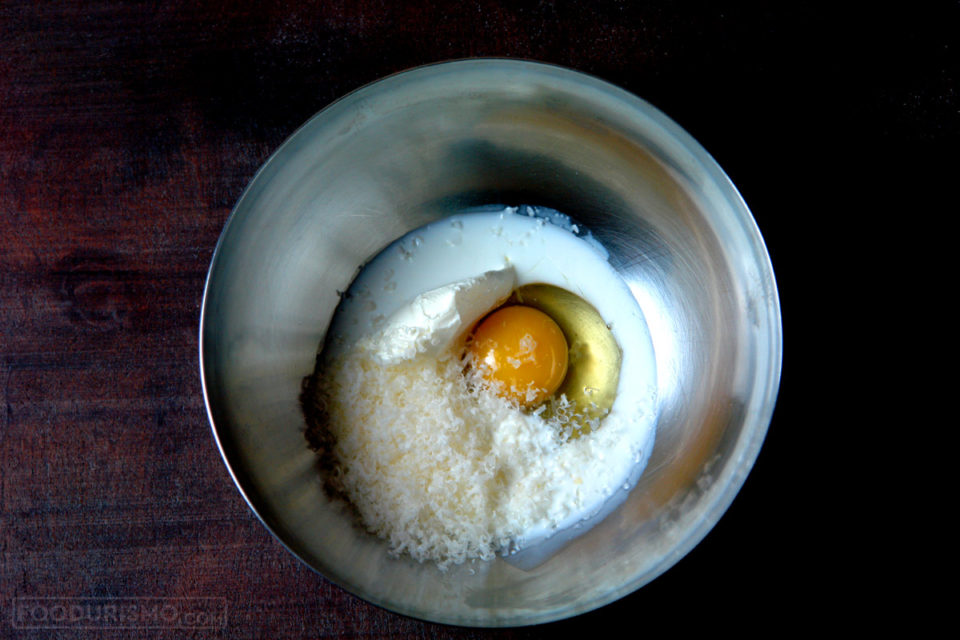 In a bowl, pour the egg, cream cheese, parmesan cheese, milk, salt and pepper and batter until they become a creamy mix.
Open the puff pastry sheet and spread it over a metal sheet that you have lined with a piece of baking paper. Carve a line with a knife, leaving 2 centimetres off the edge of the fyllo, ie. make a frame, as you can see in the photo.
Inside the frame, make holes with a fork. It is advisable to cut a piece of baking paper as big as the frame you have carved, place it on the puff pastry and drop beans or chickpeas over it, to create a bit of weight and pressure on it.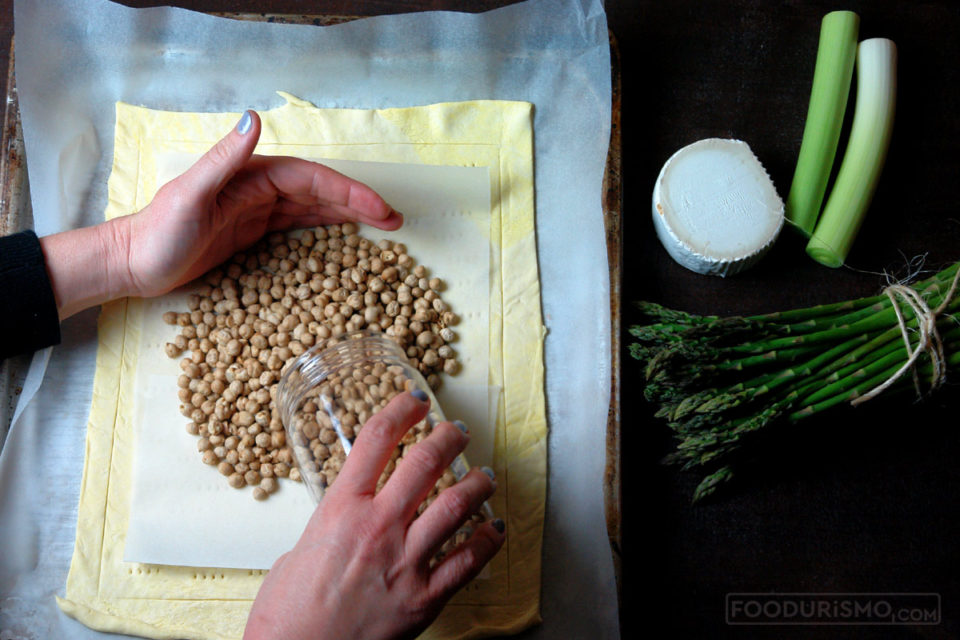 This will keep the puff pastry sheet from inflating when baking. This type of dough, of course, inflates by definition and that's something we want to happen, it's just that this process creates a kind of small cavity that will help contain all the ingredients.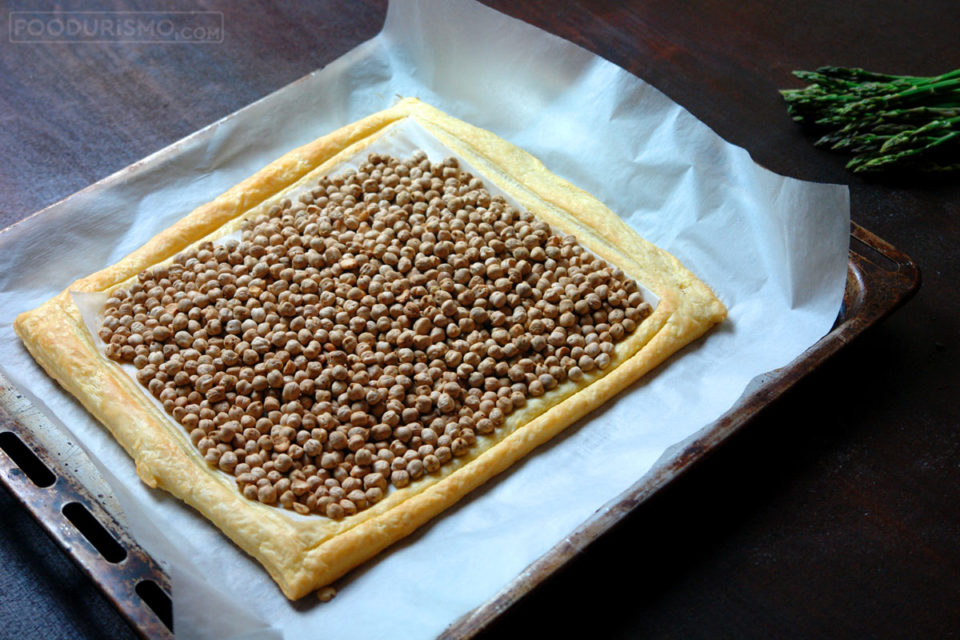 Bake the puff pastry, covered with the baking paper, for about 12 minutes. You will see that it begins to brown and inflate somewhat, especially at the edges, but leaving it for only 12 minutes will make it half-baked, which is exactly what we want.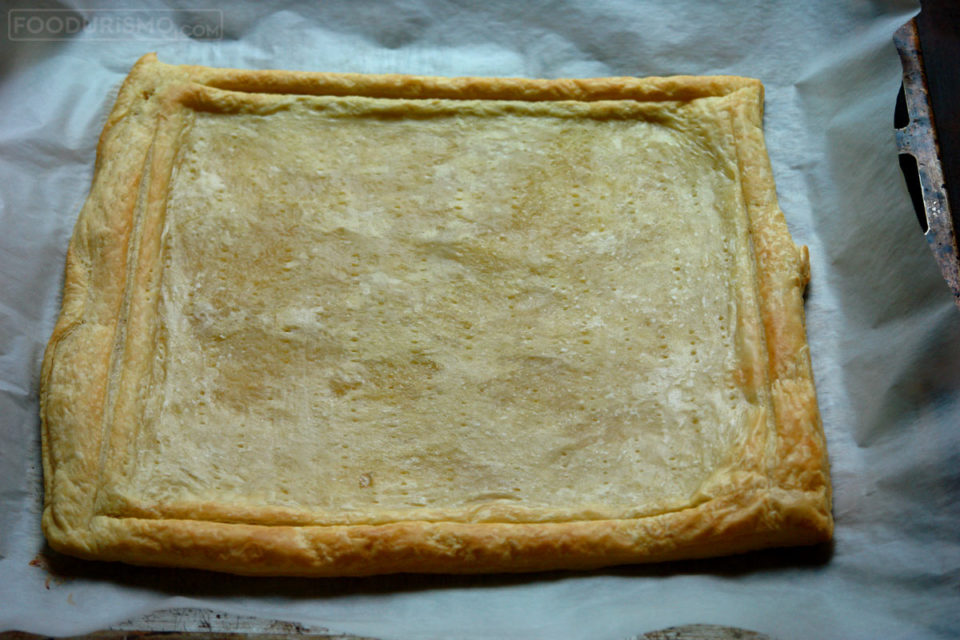 Take the pan out of the oven and remove the paper along with everything you put on it.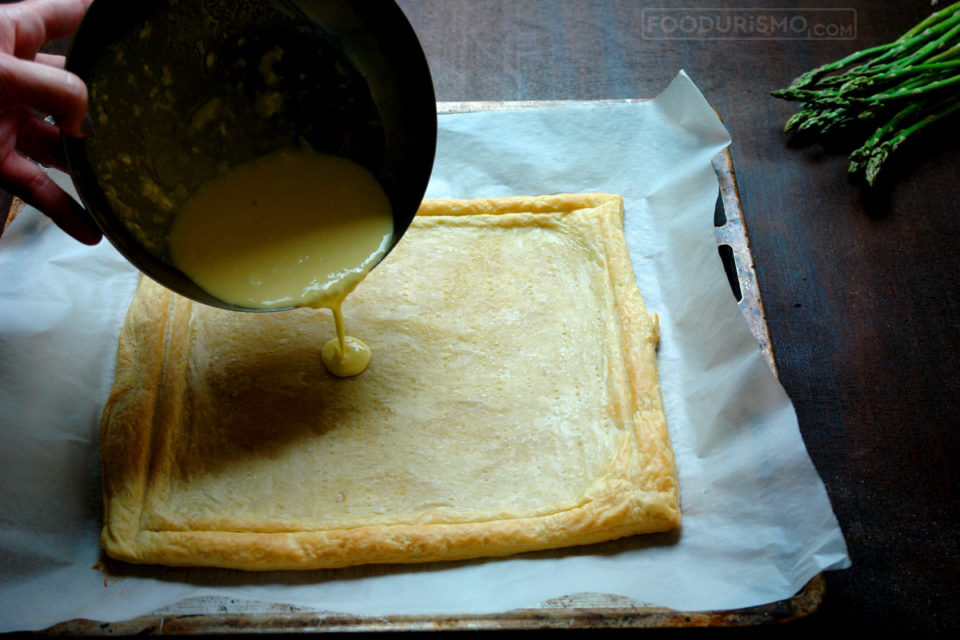 Pour the egg mixture onto the puff pastry, spread the sautéed leeks, add the asparagus pieces one next to the other and finally make crumbs from the goat cheese with your hands. Place the tart in the oven and continue baking for about 12 to 15 minutes.
You are ready to enjoy it!