My mother had a beloved uncle, Thodoros, who had immigrated to New York at a young age and worked for many years in restaurants; a usual occurrence for Greek immigrants in the '50s and '60s.
He was an unassuming person, always on the move, always working hard. He was a man of few words, very methodical about anything he set his mind to. He loved dessert-making, gardening and reading.
Whenever he spent a summer in Greece, he would make amazing delicacies for his kids and nephews. My mother still remembers his cakes, which of course weren't the majestic presentations of today, but they were delicious in their simplicity. With no electrical mixer to be found, he made the cake batter by hand, with a wire whisk. He made cream with milk, egg whites, powdered sugar and sometimes cocoa.
Imagine the delight and astonishment of children in the Greek countryside of 1960, at the mere sight of a cake. I think that must have been a "gastronomic shock", if such a term can exist. And the best part of all this was that these desserts had to be consumed immediately, at all costs (!), since the makeshift ice refrigerators were meant for basic, necessary goods and not such… luxuries.
Of course, the "cake project" didn't make the most frequent appearances, since the delicacies had to be resistant to high temperatures, easy to make and inexpensive.
Such a delicacy were roasted almonds with salt and sugar. Almonds were plentiful in every home, since almost everyone had an almond tree in their gardens or fields. So with a bit of sugar and salt, uncle Thodoros could conjure up these delightful almonds that everyone couldn't stop eating.
Salt gives an incredible taste to the heart of the seed, and sugar glosses it over deliciously. Besides, the mix of savoury and sweet essence is definitely interesting, and personally I find it irresistible.
This recipe, though, has more of a salty tendency, at least in the ratio of the ingredients I'm giving you. Feel free to experiment, according to your preferences.
These perfect little almonds are ideal to chew along with other nuts, they are excellent company for distilled drinks and wine, but they are also perfect over green salads, making them crunchy, satisfying and more interesting.
TIP: In the photos you might notice that I'm using brown sugar, however I thinκ that white, crystal sugar is much more appropriate for this recipe. White sugar specks are smaller than brown ones, so they stick to almonds better and melt way faster.
INGREDIENTS
300g raw unpeeled almonds

1 ½ teaspoon salt
1 short tablespoon sugar
INSTRUCTIONS
In a small pot, boil water and the almonds for about 15 minutes.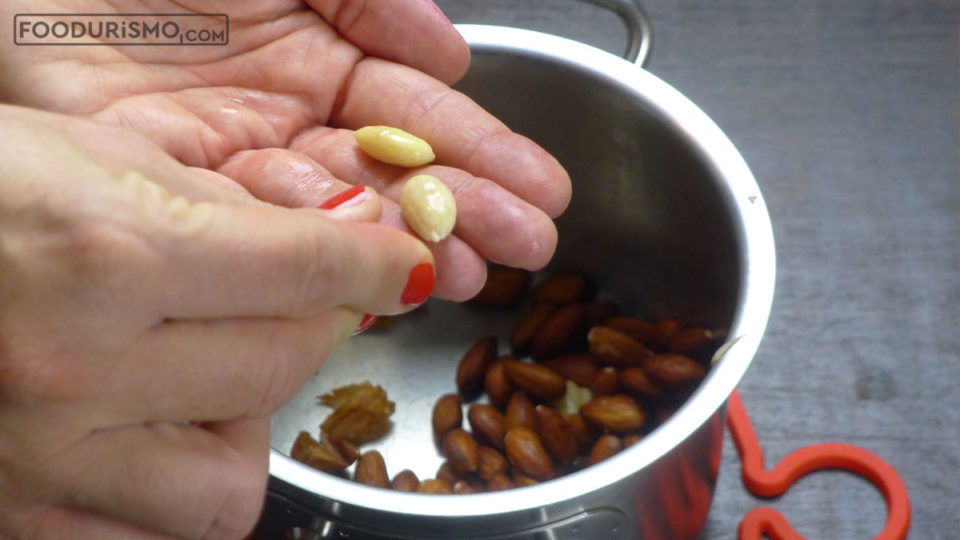 Turn on the oven to 180 degrees, on heating elements.
When the almonds are boiled, strain them and let them cool only for 5 minutes. Then, unpeel them.
Unpeeling can be done quite easily when almonds are properly boiled and are still warm.
Spread the unpeeled almonds over a baking sheet or a very shallow pan lined up with baking paper. You'll notice the almonds look damp, which is quite useful; pour the sugar and salt over them and stir well so that all seeds may be reached.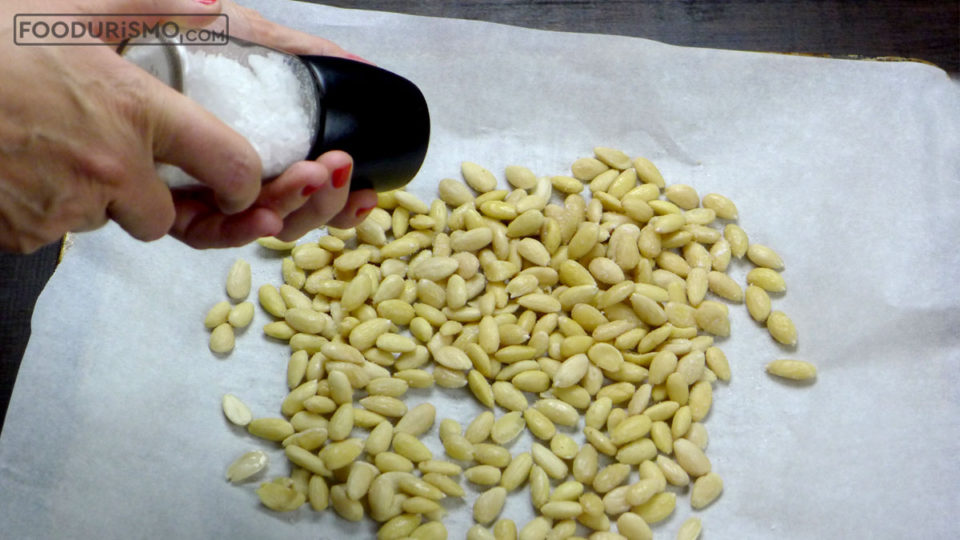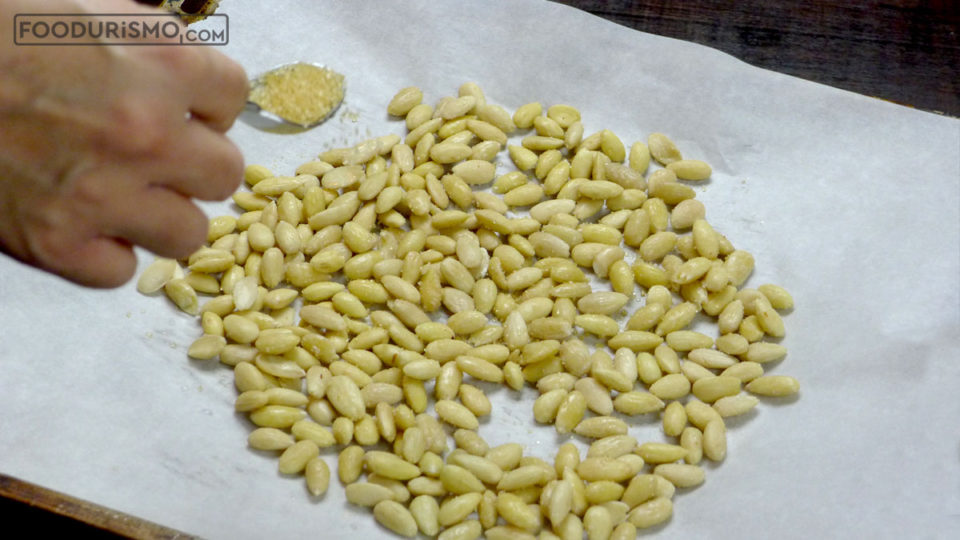 The moisture acquired by the almonds during boiling is ideal for the sugar and salt to stick to them, so follow that process immediately, before they dry up.
Put the metal sheet in the oven and bake for about 10-12 minutes. While baking, make sure they don't get scorched and turn them over once or twice so they are baked evenly.
Take the sheet out of the oven, let the almonds completely cool off and keep them in a glass jar or a stainless steel bowl.