I tried this orzo special treat one night at the house of my friend Efi, a self-proclaimed "kitchen slacker".
Efi is a working mother of a little girl, she loves traveling, walks and fancy things (!), and she considers cooking a huge pain. But she loves to eat well, so she refuses to quit the kitchen and her effort to get better in it.
She is in favour of dishes with as few ingredients as possible and very clear instructions. She considers nothing to be implicitly obvious, she sees nothing as a "piece of cake" and she automatically rejects a number of dishes and desserts because she refuses to deal with "complicated cooking projects".
But the orzo she prepared for me, which she was making for the first time, was delicious and mushy but not muddy, just what this recipe calls for. I'll admit that orzo, in greek "kritharoto", like many dishes and desserts, sounds like a handful to deal with, especially when you consider yourself a beginner or a… traditional cook. Most of us think of orzo in combination with fancy restaurants and experienced chefs, so we remove it from our list of options. It's that "-oto" suffix that brings gourmet situations to mind and makes us feel a little too small to try making it.
But homemade food doesn't necessarily require special knowledge, long years of experience and a magician's skills; these are only needed for food industry professionals.
For the rest of us who just love food, cooking only takes fresh, quality ingredients, a comprehensive recipe and a little bit of gusto to make something delicious for our loved ones.
Don't hesitate to make something just because it has 2-3 more ingredients or it takes over 10 minutes to make, and don't let the image of a beautifully set and photographed plate make you think it's an impossible feat.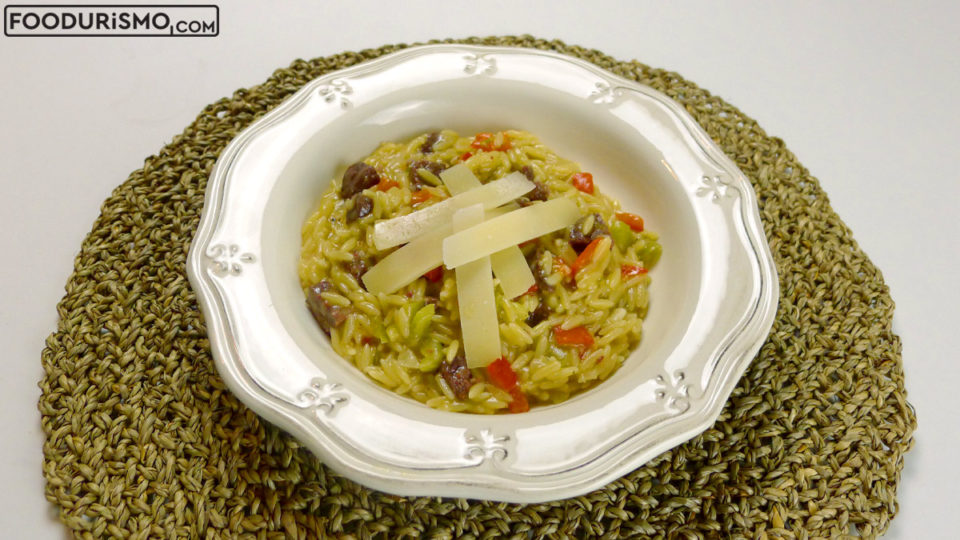 Sure, not all recipes are everyday material, nor should we reject the quick recipes that make our lives easier. But it's a great joy and satisfaction to make something "special", original and theoretically difficult.
On a day when you have the time to spare and feel like it, make this orzo with soutzouki, that will prove very exciting for you and your dinner companions!
INGREDIENTS FOR 2 PERSONS
150g of orzo (medium size)
50g of sliced soutzouki
20g of butter
350g of warm chicken broth (store-bought or homemade)
1 small dry onion
1 small fresh onion
1 garlic clove
1 small green pepper
1 small red pepper
1 shot of white wine
salt and pepper (sparsely, because the soutzouki is already spicy)
2-3 tbsps of grated parmesan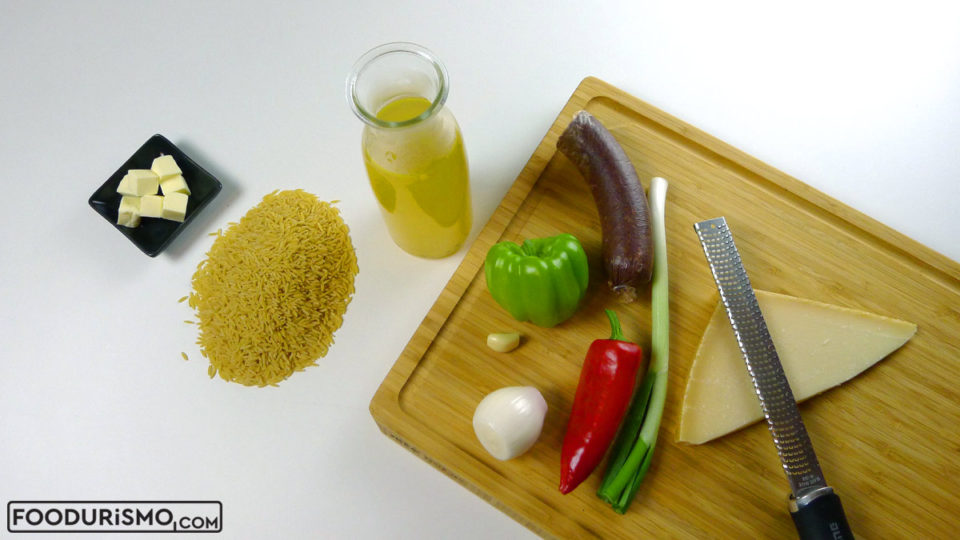 INSTRUCTIONS
In a shallow pot or a deep frying pan, we pour the butter and let it melt.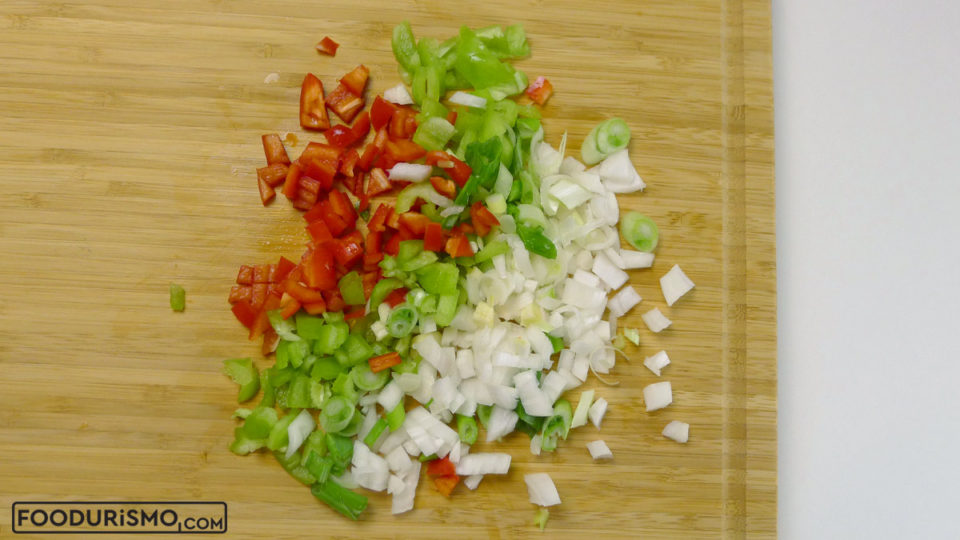 We chop the onions, the garlic and the peppers and drop them in.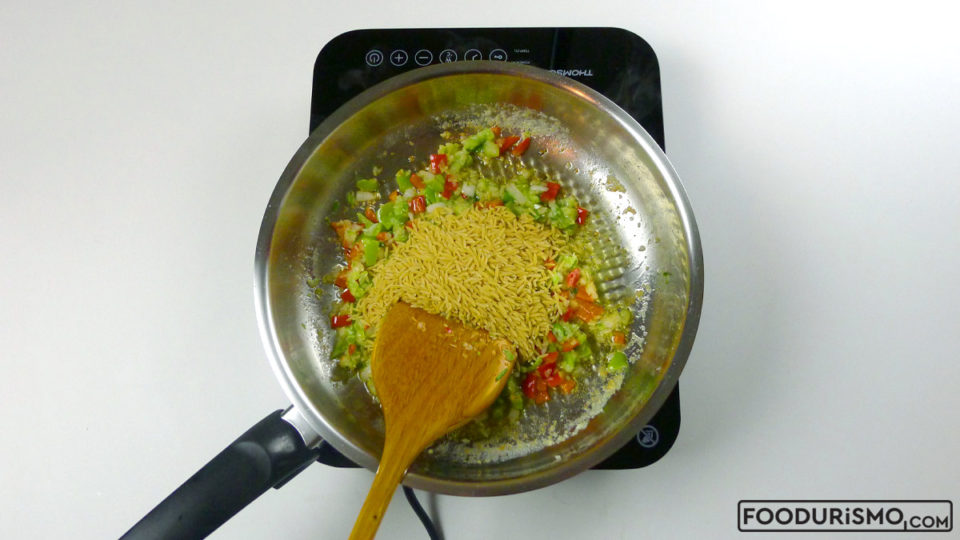 We sauté the mix and add the orzo, mixing well for a couple of minutes.
We want all of the orzo to be wet with the melted butter, which will help cook it without turning it into a muddy mass.
Next, we drop the slices of soutzouki and mix some more, pouring some wine and letting it cook for 2-3 minutes, until the alcohol has evaporated.
Slowly, we add in the warm broth, while mixing constantly. For instance, we can pour 1/4th of the broth, mix, let almost all of it be absorbed, then pour another quarter of our broth. To put it simply, it's best to divide the broth in 4 parts and pour it gradually into the food.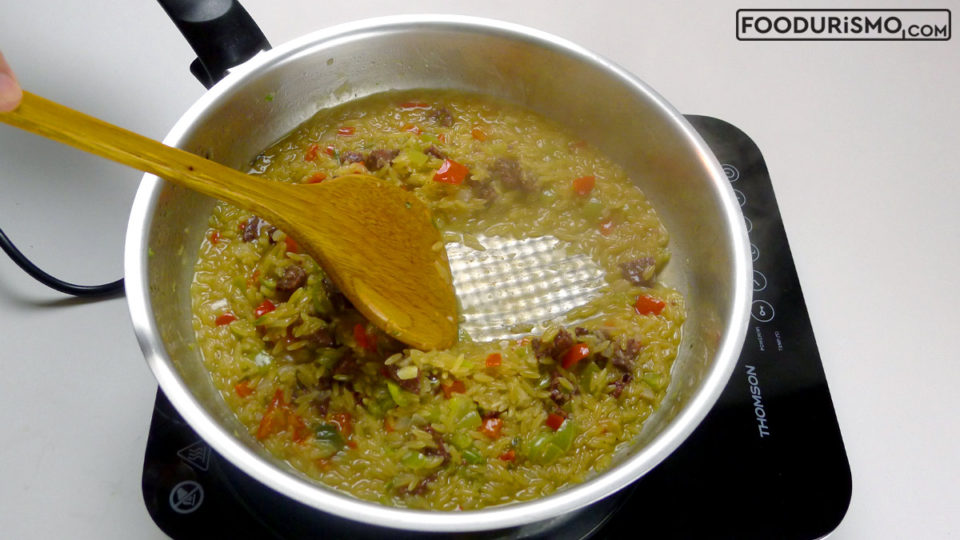 Orzo, or kritharoto, just like risotto, needs us to be on top of things, mixing constantly. Thankfully, that only lasts 20 minutes at most and rewards us with a deliciously mushy dish. By mixing and "watering" with broth, the orzo brings out its starch and is cooked without melting, absorbing the rich taste of soutzouki.
Taste a bit of the orzo to see if it's all right, if it still holds then add just a bit of water and keep it on the heat for 1 or 2 more minutes.
Turn off the heat, add the grated parmesan, mix well and serve.
This is a dish best served with a wine you love or a lovely, refreshing beer.
If you don't like soutzouki or find it too heavy to stomach, you can replace it with any kind of sausage of your choosing. Try a variety with paprika, leek or orange; there is a huge variety available in stores.